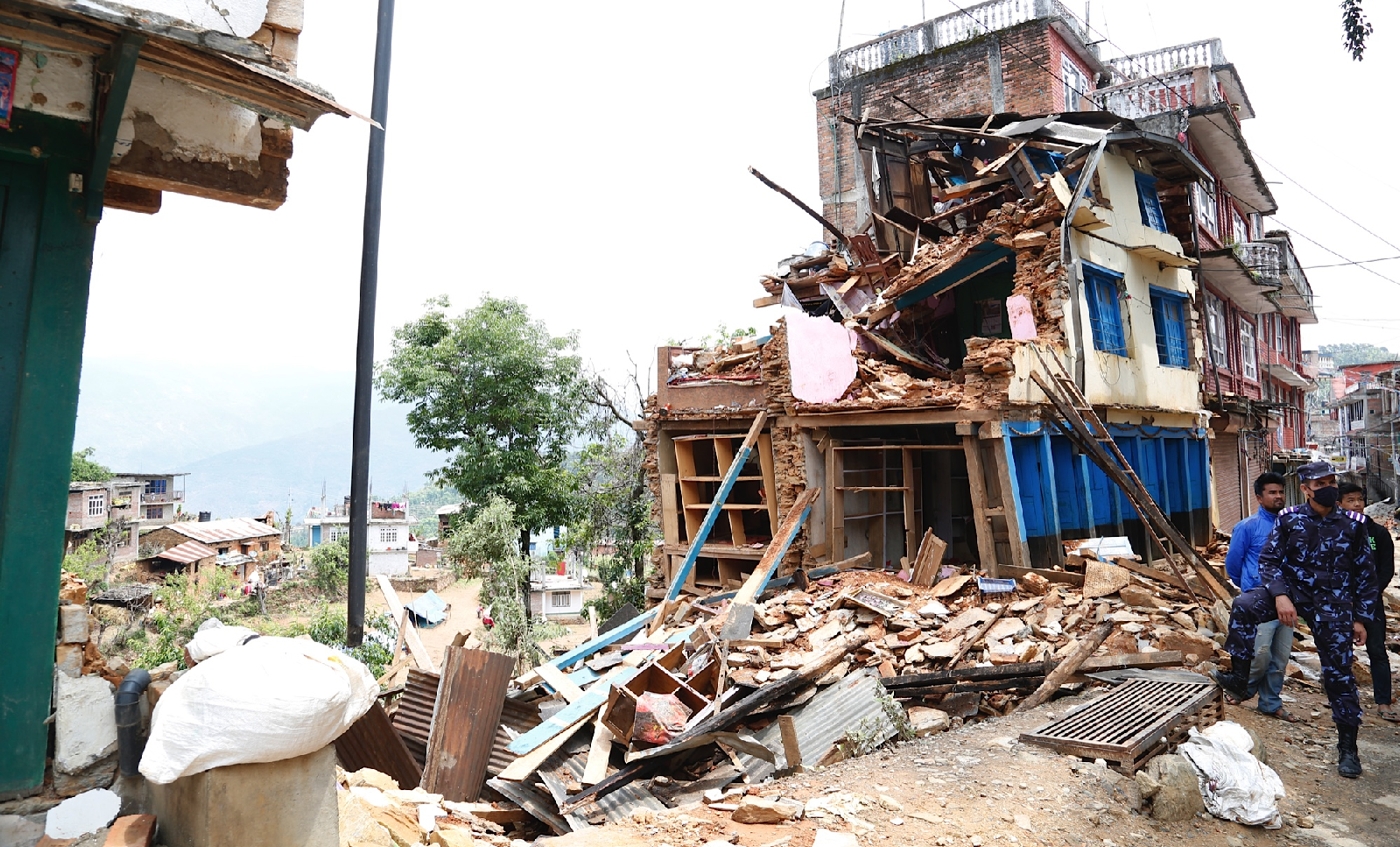 Collapsed buildings in earthquake-hit Chautara, Nepal. Photo credit: DFID@flickr
As part of the ongoing Legal Review Programme, International IDEA and Nepal Law Society (NLS) convened a national-level consultation on 1 September 2017 in Kathamandu, on the Disaster Management Bill presented in the parliament in May 2015, but is yet to be passed given that Nepal is one of world's most disaster-prone countries, having on a law on this matter would be critical. Around 25 participants—Members of Parliament, disaster management experts and representatives from the civil society—gathered to discuss the provisions of the Bill to ensure that it is in line with the spirit of the constitution and international instruments.
The draft Bill was introduced by Advocate Raju Chapagai who presented review findings of Legislative Review Group comprising 10 Nepali lawyers set up under the International IDEA-NLS initiative. He started out with highlighting some of the main advantages of the Bill, including, amongst others, setting up of a permanent umbrella body to oversee disaster related tasks, mobilize rescue operations, ensure relief distribution, and undertake reconstruction. In addition to this, and in line with Nepals's new federal structure, the Bill also proposes to establish disaster management committees at provincial levels.
One of the key issues that emerged during the interaction was that the Bill lacks a holistic approach to disaster management. Participants raised issues of discrimination during disaster, and politicization while providing relief. They also expressed the concern around the fact that the government acted reactively rather than proactively. What is needed, many argued, is an approach by which the responsibility of the government would not only be to engage during and after a disaster or emergency situation, but also to put in place effective systems for prevention and early warning.
Lack of coordination between concerned line ministries was pointed out as another issue. Gangalal Tuladhar, MP of Unified Marxist-Leninist(UML), suggested that the establishment of a National Council under the Prime Minister's Office represented a major advantage of the new Bill as such a centralized function can promote inter-ministerial coordination. He added that disaster management involves a number of ministries where e.g. functions linked to search and rescue ought to come under the Ministry of Home Affairs whereas recovery should be placed under the Ministry of Development.
More linked to disaster operations, Ram Narayan Bidari, MP of the Communist Party of Nepal (Maoist Centre) raised the need to put in place a separate unit to guarantee timely interventions. Rapid action teams could e.g. be established within the army and the police. The crucial issue of timing when disasters take place also warrants pre-identification of disaster shelter options.
Other issues discussed were linked to amongst others, the responsibilities and functions to be located at the local level of government, the need to ensure appropriate mechanisms that guarantees inclusive and proportional relief, establishment of disaster-related school curricula, responsibility and contribution of private companies during rehabilitation.
Moderator of the programme Mohna Ansari, spokesperson of National Human Right Commission of Nepal, concluded by expressing her dissatisfaction with the government for not being capable of effectively managing and responding to disasters when they happen. She added that the government has sufficient funds and resources but nevertheless fails to provide basic needs to people affected by disaster and thereby forcing them to live in dire state.
The interaction programme was part of International IDEA and Nepal Law Society's Legal Review Programme, aiming to review draft Bills that are required to implement Nepal's new constitution (2015) to make sure that laws are in line with the new constitution and international standards and conventions. The legal review programme is implemented in partnership with the Governance Facility.