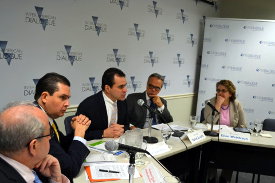 On February 29, the book The Cost of Democracy: Essays on Political Finance in Latin America was launched at the Inter-American Dialogue in Washington DC as part of an event on regulating campaign finance in the Americas. The speakers included authors, Daniel Zovatto, Regional Director for Latin America and the Caribbean, and Kevin Casas, Director of Inter-American Dialogue's Peter D Bell Rule of Law Program. They were joined by Ellen Weintraub, Commissioner of the US Federal Elections Commission, and Francisco Guerrero, Secretary for Strengthening Democracy at the Organization of American States. Michael Shifter, President of the Inter-American Dialogue, served as moderator.
"Campaign finance is of critical importance for democracy because of electoral fairness, political equality and political integrity" Casas told participants. "The prevailing opacity has given way to a profuse mythology that identifies private financing of campaigns as being at the root of all sort of political pathologies and mishaps."
According to Weintraub, there is a need of more cost effective campaign expenditures, and it is important to have in mind that a huge issue threatening democracy is who has influence after the campaign is over. For Guerrero it is hard for politicians to ignore the issue of money and politics, especially because citizens now have their voice channelled via social media against it, and also mentioned the effects that a campaign finance reform could have on corruption in Latin America.
"Despite greater regulation of political financing, Latin America offers abundant examples of foreign financing being used in campaigns," Zovatto said in his concluding remarks.
"It is prohibited in practically all the countries, and of the penetration of resources from organized crime in campaign finance. The involvement of organized crime poses particular risks at the local level."