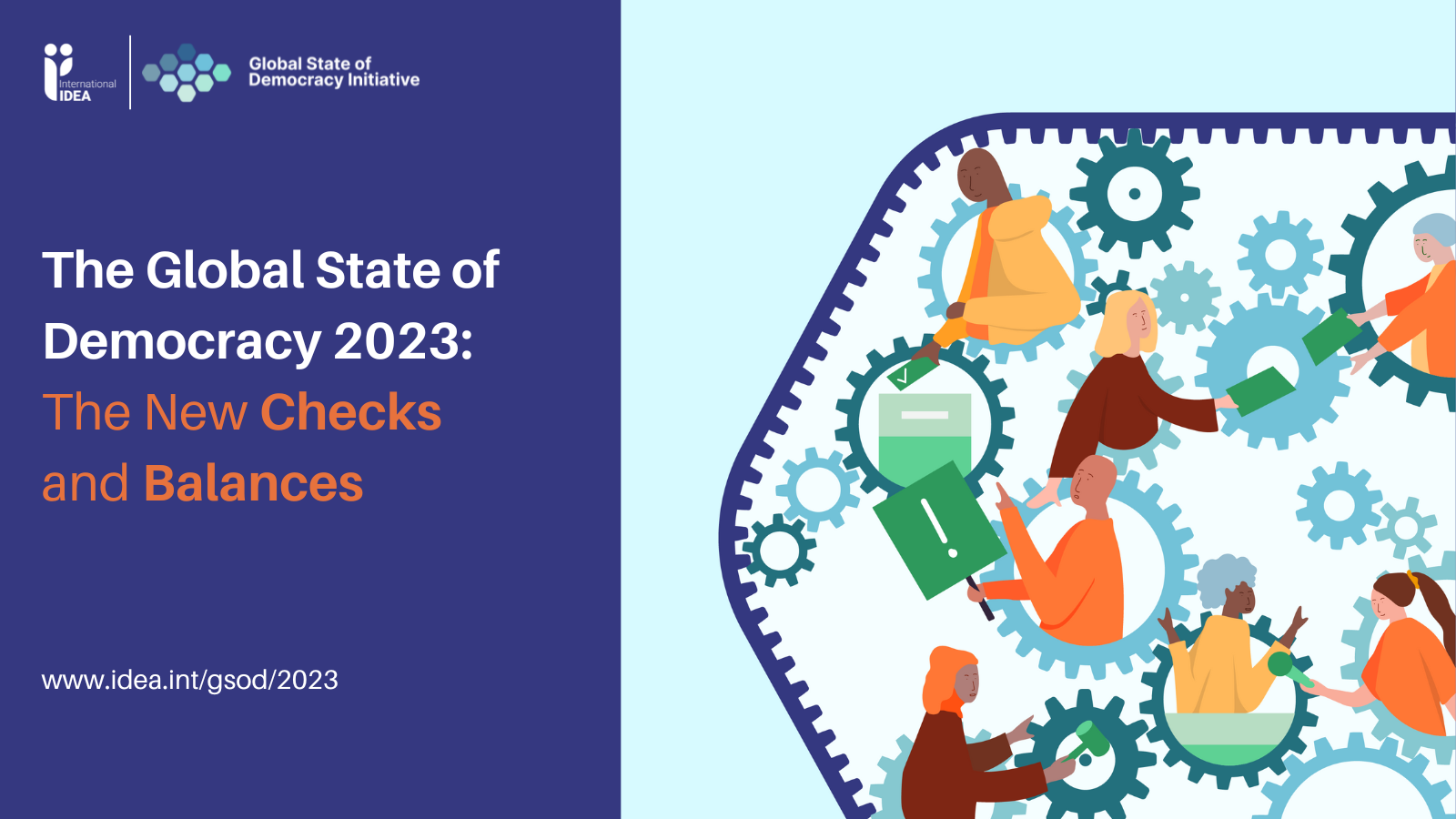 STOCKHOLM – The bedrocks of democracy are weakening across the globe, with half of countries suffering democratic declines ranging from flawed elections to curtailed rights, such as freedoms of expression and assembly, according to a new report by the International Institute for Democracy and Electoral Assistance (International IDEA), an intergovernmental organization headquartered in Stockholm. 
This deterioration has been exacerbated by the erosion of formal 'checks and balances'—elections, parliaments and courts—that have struggled to uphold the law and hold politicians to account. This decline comes as the cost-of-living crisis, climate change and Russia's war against Ukraine pose huge challenges for elected leaders. 
Almost half (85) of the 173 countries surveyed suffered a decline in at least one key indicator of democratic performance in the past five years, based on 17 metrics ranging from civil liberties to judicial independence. 2022 was the sixth consecutive year in which countries with net declines outnumbered those with net advances, the longest consecutive fall since our records began in 1975. The declines span the globe from South Korea to Benin and Brazil, from Canada to El Salvador and Hungary. 
There are green shoots, with surprisingly high rates of political participation and decreasing levels of corruption, especially in Africa. Organizations and movements such as electoral management bodies (EMBs), anti-corruption agencies and rights institutions are acting as new checks and balances by preventing abuses of power. 
'Many countries are struggling now even with basic aspects of democracy," said International IDEA Secretary-General Kevin Casas-Zamora. 'But while many of our formal institutions like legislatures are weakening, there is hope that these more informal checks and balances, from journalists to election organizers and anti-corruption commissioners, can successfully battle authoritarian and populist trends.' 
Recognizing the complexity of democratic performance, 'The Global State of Democracy 2023 Report – The New Checks and Balances', for the first time, ranks countries in four major categories of democratic performance rather than one overall classification. These four categories are Representation, Rights, Rule of Law and Participation.
Representation—credible elections and effective parliamentary oversight—has deteriorated, including in well performing democracies such as Costa Rica and Portugal. A wave of coups d'état in Africa (most recently in Niger and Gabon) also highlighted this worrying global trend. 
The Rule of Law—such as judicial independence and the degree to which people are free from political violence—has weakened globally, including in countries such as Austria, Hungary and Peru. 
All regions have suffered an eroding respect for basic rights, including freedom of expression and freedom of assembly, including in Austria, El Salvador, Italy, Senegal and Slovenia. 
But participation—a measure of how involved citizens are in democratic expression during and between elections—has strengthened in many countries, including Ethiopia, Zambia and Fiji. Many established democracies are experiencing setbacks across these key categories over the last five years, ranging from declines in social group equality in the United States, freedom of the press in Austria and access to justice in the United Kingdom.
To conclude, the report recommends policy actions to bolster global democratic renewal, including support for independent EMBs and courts; full commitment from governments to protect civic space, and legal protections for the independence of institutions that protect elections, investigate corruption and supervise government programmes.   
The global report covers 173 countries and will be presented on 2 November 2023, 17:00 CET during a global livestreamed event, including keynote messages from H.E. Dr Mokgweetsi E.K. Masisi, President of Botswana and H.E. Dr José Ramos-Horta, President of Timor-Leste.
Regions
Europe 
Many established European democracies have seen declines in their democratic performance, including Austria, the Netherlands, Portugal and the United Kingdom in the Rule of Law category. While threats to peace and democracy from authoritarianism and democratic declines in the region remain painfully apparent, notably from the non-democratic countries of Azerbaijan, Belarus, Russia and Türkiye, the continent still retains its status as the world's highest-performing region. Encouraging signs are emerging, especially from Central Europe, where several countries have made significant advances in their democratic performance, particularly around the Rule of Law. 
Americas 
Although most countries in the Americas have managed to hold credible elections and continue to have a mid-range performance across categories of democracy, several countries such as El Salvador and Guatemala have experienced recent and rapid dips in performance. These declines have been especially impactful regarding Civil Liberties and the Rule of Law. 
Africa 
The quality of Representation in Africa has fallen as the continent has been affected by both acute declines following unconstitutional changes of government (including coups d'état) and chronic declines where authoritarian leaders and parties have sought to prolong their time in power. But the continent has emerged as a bastion of strength around Participation—even in countries like Burkina Faso and Mali where trends are negative and other indicators present a dire situation for democracy.  
West Asia
While the overall picture of authoritarianism in Western Asia persists, the region is especially notable for the proliferation of new forms of electronic surveillance and repression. Even so, pro-democratic popular movements have challenged entrenched powers in countries across the region, in spite of a range of dangers and threats. The recent outbreak of violence between Hamas and Israel follows years without elections in Palestine, and months of political upheaval in Israel.
Asia and the Pacific 
Freedoms of expression and of the press remain under threat, and freedom of association has declined across many countries such as Kyrgyzstan and Sri Lanka. Democracies in the Pacific, which is a renewed focus of geopolitical tension between the China and the United States, may see their institutions tested by these outside pressures.
Launch Quick Links
Key hashtag to follow on social media: #GSoD2023 
For media enquiries, please contact: Alistair Scrutton, Head of Communications and Knowledge Management at a.scrutton@idea.int, Tel: 00 46 707 211098  
Translations
(AR) > إقرأ باللغة العربية 
(ES) > Leer en español 
(FR) > Lire en français
(PT) > Leia em português