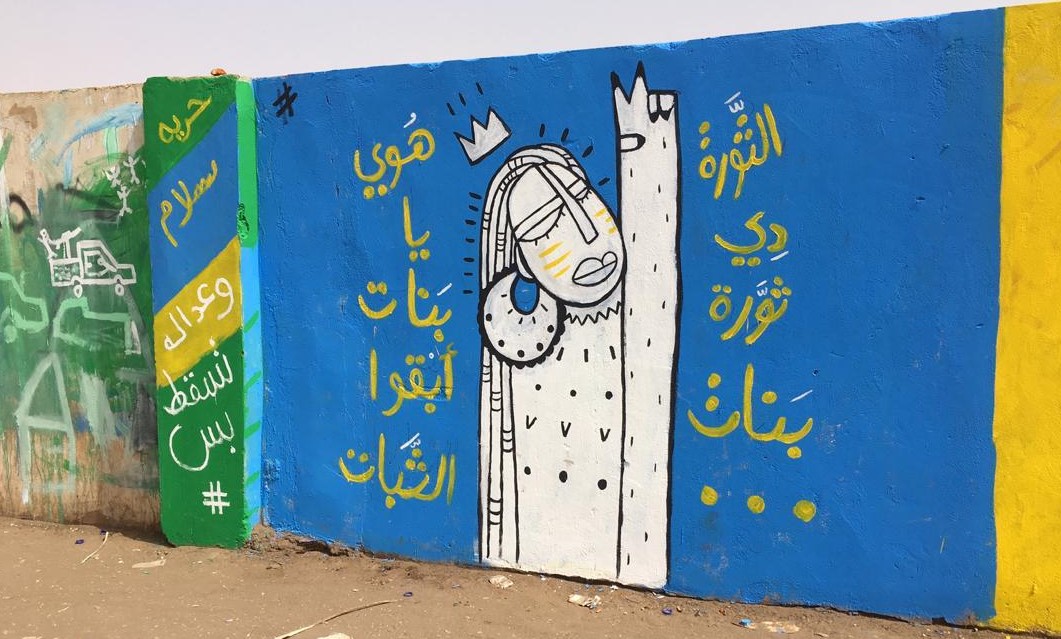 Street art by Sudanese artist Alaa Satir, Girls Revolution, Khartoum, Sudan, August 2019.
The current transitional period in Sudan is assumed to lay solid ground for smooth multiparty democracy. In this respect, current political parties are expected to be prepared not only to run for the upcoming election but to make sure that democracy is sustained and protected. Thus, it is of vital importance to examine these parties in terms of the "women and women inclusion agenda".
In this context, International IDEA Sudan's Programme organized a validation meeting for the study 'Gender-Assessment of Political Parties' Internal Regulations in Sudan'. The study was commissioned by Sudan's programme Gender, Women Political Empowerment component and written by Dr Asha Al-Karib.
The study is the first research ever to be conducted to explore how Sudanese political parties respond to and describe meaningful participation of women and men in political leadership and decision making. The analysis focuses on the following aspects within the political parties:
Policy frameworks: namely constitutions, party manifestos, plans of action, and other relevant policy documents in terms of the provisions on gender equality and women's empowerment in the party policy documents;
Party structures: defined in the policy documents, their leadership and decision-making roles, positioning, and role of the women's wings/units/leagues in political parties in relation to other party structures, and specification of the equal participation of women and men in these structures;
Party systems/rules/regulations: identification, nomination, and selection of candidates (intra-party democracy systems), to have equal participation and representation of women and men in political processes and decision making;
Political parties' positions on gender equality and women's empowerment as articulated in the media and the influence on the general public.
The report concludes that coming out of 30 years of oppressive dictatorship, old political parties (PPs) in Sudan suffer from fragmentation, 'rusted' constitutions and programmes and a hazy relationship with their constituencies. One of the justifications of having a rather long transitional period was to give political parties a chance to rebuild themselves by updating their policies and structures taking into consideration the changing context in Sudan and the aspiration of the young generation for democracy and good governance.
Political parties are considered the gatekeepers to women's access to leadership for the promotion of women at the political level. So, women's empowerment and gender equality must be mainstreamed and put into practice at the level of political parties. The institutionalization of gender equality is critical if men and women are to enjoy equal political rights and opportunities in practice. Increasing the number of women in political parties will not automatically achieve this institutionalization, although engaging more women in the political sphere should remain a key goal for women political empowerment. In the absence of institutionalized structures, policies, programmes and processes that ensure gender equality, achieving the "critical mass" of 40% women's representation in politics as stipulated by the Constitutional Declaration of Sudan (CD) is well nigh impossible.
Despite the fact that almost all PPs' constitutions and programmes refer to women inclusion in some way or another, and also even when women have specific offices, these provisions are not translated into action and the effective realization of gender equality is still far-fetched. A concrete example is that the nomination of women for office by the political parties included in the FFC is at best nominal.
A key finding of the study is that the low participation of women is part of the broader issue of cultural and negative social norms that are entrenched within and perpetuated by political party norms, systems, practices, procedures, and access to male-dominated leadership positions. The history and practice of most PPs included in this study are characterised by respondents as being patriarchal and hence male-dominated.