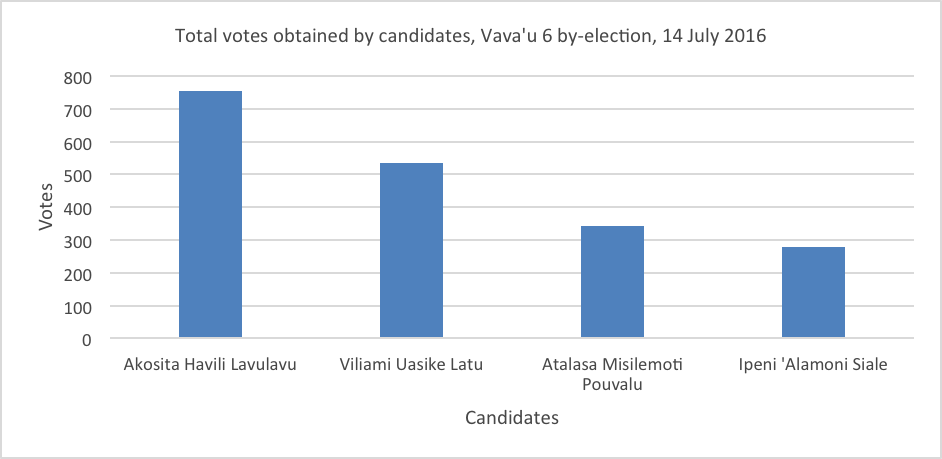 Since the general elections in Tonga on 27 November 2014, two Peoples' Representatives in the 26-seat Parliament, comprising of 17 Peoples' Representatives and 9 Nobles Representatives, have been dismissed. These Representatives were disqualified for breaches of the Electoral Act 1989. Mr Mateni Tapueluelu, (Peoples' Representative for Tongatapu 4) was disqualified by the Supreme Court on 15 December 2015 for outstanding debts. He successfully challenged the ruling in the Court of Appeal and was subsequently reinstated on 8 April 2016. The other Representative, Mr 'Etuate Lavulavu (Peoples' Representative for Vava'u 16), was found guilty by the Supreme Court on 29 January 2016 for bribery on three occasions under section 21(1)(a) of the Electoral Act 1989 and for spending over TOP$10,000 on his election campaign under section 24(1) of the Electoral Act 1989. The ruling was the result of an election petition by two losing candidates. One of them, Viliami Latu subsequently contested the by-election on 16 July 2016.
Four candidates, including one female, Akosita Lavulavu contested this seat. She is the wife of 'Etuate Lavulavu, whose disqualification led to this by-election. 'Etuate Lavulavu and Viliami Latu are from the same village of Leimatua which also has the largest number of registered voters in Vava'u 16 representing 30 percent of the voters. Akosita Lavulavu won the seat comfortably beating all three male candidates. She obtained 754 votes (See Graph 1). The margin between the runner up Viliami Latu and her is 218 votes, the latter obtaining 536 votes.
Graph 1: Total votes obtained by candidates in Vava'u 6 by-election, 14 July 2016
Source: Tonga Electoral Commission, Constituency – Vava'u 16 by-election: 14th July, 2016 (Nuku'alofa: Tonga Electoral Commission, 2016)
Vava'u 16 is comprised of 12 villages with a registered voter population of over 2,000 voters, including registered voters residing in other islands in the Kingdom. As can be seen in the Graph 2, Leimatua voters were split between the two candidates from their village. Although Viliami Latu obtained most of the votes in Leimatua village, Akosita Lavulavu won because she was able to collect more votes in nine other villages compared to Viliami Latu. She obtained 40.7 percent of the votes in Vava'u 16. When votes from the 12 villages are combined with votes from other part of Tonga, she obtained 39.4 percent of the total votes which represents a respectable election result for a woman candidate.
Akosita Lavulavu's election breaks the 11-year drought since the last woman Representative, Lepolo Taunisila was elected in 2005. She is the fifth Tongan female to be elected into Parliament in history. This also follows the election of two women in the recent town and district officers' elections in Tonga. One woman was elected district officer in 'Eua, a small island situated off Tongatapu and another was elected town officer for Haveluloto, a big village outside the capital Nuku'alofa on Tongatapu. This is a major breakthrough and a promising development for women in Tonga at this level which has traditionally been dominated by men.
Graph 2: Distribution of votes for candidates in Vava'u 6 villages for the by-election, 14 July 2016
Source: Tonga Electoral Commission, Constituency – Vava'u 16 by-election: 14th July, 2016 (Nuku'alofa: Tonga Electoral Commission, 2016)
However, while Akosita Lavulavu's election to parliament is a giant step for political participation by women in Tonga at the national level, it alleged that she played a role in bribing voters on behalf of her husband during the 2014 general election, which subsequently led to his dismissal. Hopefully, no dismissals and violations of Electoral Act 1989 will occur before the next general election, which is set to take place in 2018.