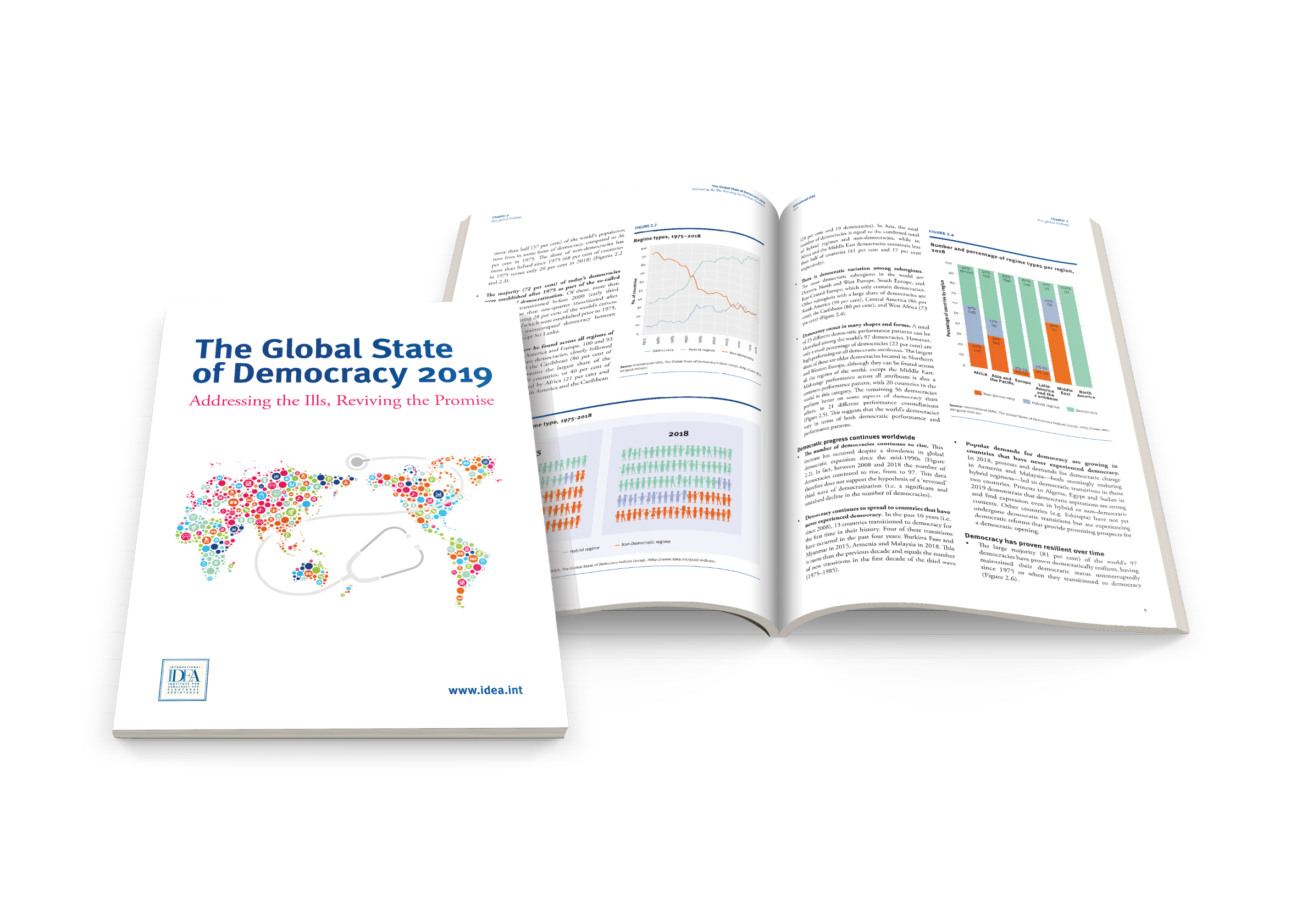 The Global State of Democracy 2019 Report. Image credit: International IDEA
Quality of East-Central Europe's democracies shows signs of decline 30 years after the fall of the Berlin Wall
BRUSSELS—On 20 November 2019, the International Institute for Democracy and Electoral Assistance (International IDEA) and the European Committee of the Regions (CoR) will host a one-day conference aimed at reflecting on and commemorating 30 years since the fall of the Berlin Wall.
This conference will explore the evolution and the current state and resilience of democracies in East-Central Europe based on the International IDEA's latest Global State of Democracy Report and Indices titled The Global State of Democracy 2019 Report: Addressing the Ills, Reviving the Promise. It presents data and comparative analysis of the health of democracy across the globe, including in the East-Central Europe region [1] . It identifies recent democratic trends for the region that are contrasted with developments across other regions of Europe.
"The GSoD shows us that democracy in Central-Europe is indeed backsliding. But also that the type and speed of democratic decline varies widely from country to country. The GsoD's broad view on democracy helps us to better pinpoint where to focus our efforts at countering that backsliding", said Sam Van der Staak, Head of Regional Europe Programme, International IDEA.
While Europe as a whole has the highest number of democracies compared to other regions, the quality of these democracies has often shown signs of stagnation and at times erosion. The GSoD report finds that East-Central Europe is the region that is most affected by these declines, particularly in the sub-attributes of Civil Liberties, Freedom of Expression, and Media Integrity.
Since the fall of the Berlin Wall, countries in East-Central Europe have seen rapid democratization and profound economic reforms, producing flourishing democracies with strong guarantees for fundamental freedoms and civil liberties, free media and independent judiciary. These successes have been achieved, inter alia, by fostering the representative nature of decision-making institutions, providing for diverse forms of civic engagement, and promoting effective multi-level governance whereby decision-making powers lie at the level closest to the people.
The GSoD report finds that more than half (56 %) of democracies in Europe suffer from democratic erosion. And from the 10 democracies in the world where important democratic attributes such as checks on government, civil liberties, freedom of expression and media integrity have declined, 6 such countries are in Europe.
Sharing their insights on the past, present and future of East-Central Europe will be former and current national and local government leaders from the East-Central European countries as well as officials, activists and academics from an array of European institutions working to promote democracy.
Conference location: Committee of the Regions, at Bâtiment Jacques Delors, on Rue Belliard 99-101 in Brussels.
All attendees including members of the press must register by 15 November at EventBrite.
This event will be shared live via webcast: https://www.youtube.com/watch?v=s6lOFBfCmB0&feature=youtu.be
[1]East-Central Europe denotes a European sub-region composed of the following countries: Albania, Bosnia and Herzegovina, Bulgaria, Croatia, Czechia, Estonia, Hungary, Kosovo, Latvia, Lithuania, Macedonia, Poland, Romania, Serbia, Slovakia, Slovenia;
Source: Global State of Democracy Indices, International IDEA 2019
https://www.idea.int/gsod-indices/#/indices/
*********************
The Global State of Democracy 2019 Report contributes to a public debate on democracy, informs policy interventions and identifies possible solutions to trends affecting the quality of democracy. GSoD is based on two key principles: popular control over public decision-making and decision-makers, and equality between citizens in the exercise of that control. The indices produce data for 158 countries and are updated annually. The database is publicly available at www.idea.int/gsod-indices
The 2019 report is available in English, both in print and online. A summary of the publication is available in English, Spanish, French and Arabic. Explore the Global State of Democracy Initiative website (www.idea.int/gsod) and the Global State of Democracy Indices (www.idea.int/gsod-indices) to learn more. This interactive website also includes downloadable graphs and country profiles, and helps comparing democratic performance across countries and regions.
*********************
The International Institute for Democracy and Electoral Assistance
The International Institute for Democracy and Electoral Assistance (International IDEA) is an intergovernmental organization with the mandate to support and advance democracy worldwide. International IDEA contributes to the public debate on democracy and assists in strengthening process, reforms, institutions and actors that build, advance and safeguard democracy, with a focus on electoral processes; constitution-building processes; and political participation and representation. Mainstreamed across all of our work is gender and inclusion, conflict sensitivity and sustainable development.
For more information, visit www.idea.int
Engage with us!
Media Contact:
Lynn Simmonds, Communications Manager, L.Simmonds@idea.int
Programme Contact:
Nana Kalandadze, Programme Officer, Regional Europe Programme, N.Kalandadze@idea.int