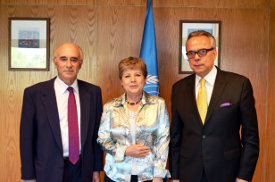 On 16 March, International IDEA and the Economic Commission for Latin America and the Caribbean (ECLAC) signed a Memorandum of Understanding (MOU) at ECLAC headquarters in Santiago, Chile. The MOU signals a continuation and strengthening of collaboration and cooperation for specific projects and agreements.
The areas of cooperation in which both institutions agreed to develop joint activities will be focused on the following aspects:
Strengthening government institutions;
Promoting initiatives linking democracy and development;
Supporting interregional cooperation;
Promoting gender equality and women's empowerment and participation in public policy-making.
The Executive Secretary of ECLAC, Alicia Bárcena, and the Regional Director for Latin America and the Caribbean of International IDEA, Daniel Zovatto, represented the respective institutions in the signature of the MOU. Sergio Bitar, member of International IDEA's board, was also present, as an honourary witness.
Both institutions signed their last MOU in 2011.