Use of E-Voting Around the World
This page presents the current state of the use of e-voting in elections around the world. Data and graphs are based on International IDEA's ICTs in Elections Database. The Database provides very detailed country level data about the use of ICTs in elections, together with comments and sources accompanying the data. The current functionalities of the Database requires that users take several steps in order to explore how certain e-voting methods are used globally. This page has been developed in order to allow users to see global summaries and patterns of the use of e-voting in a more simplified way.
Figure 1: Use of e-voting around the world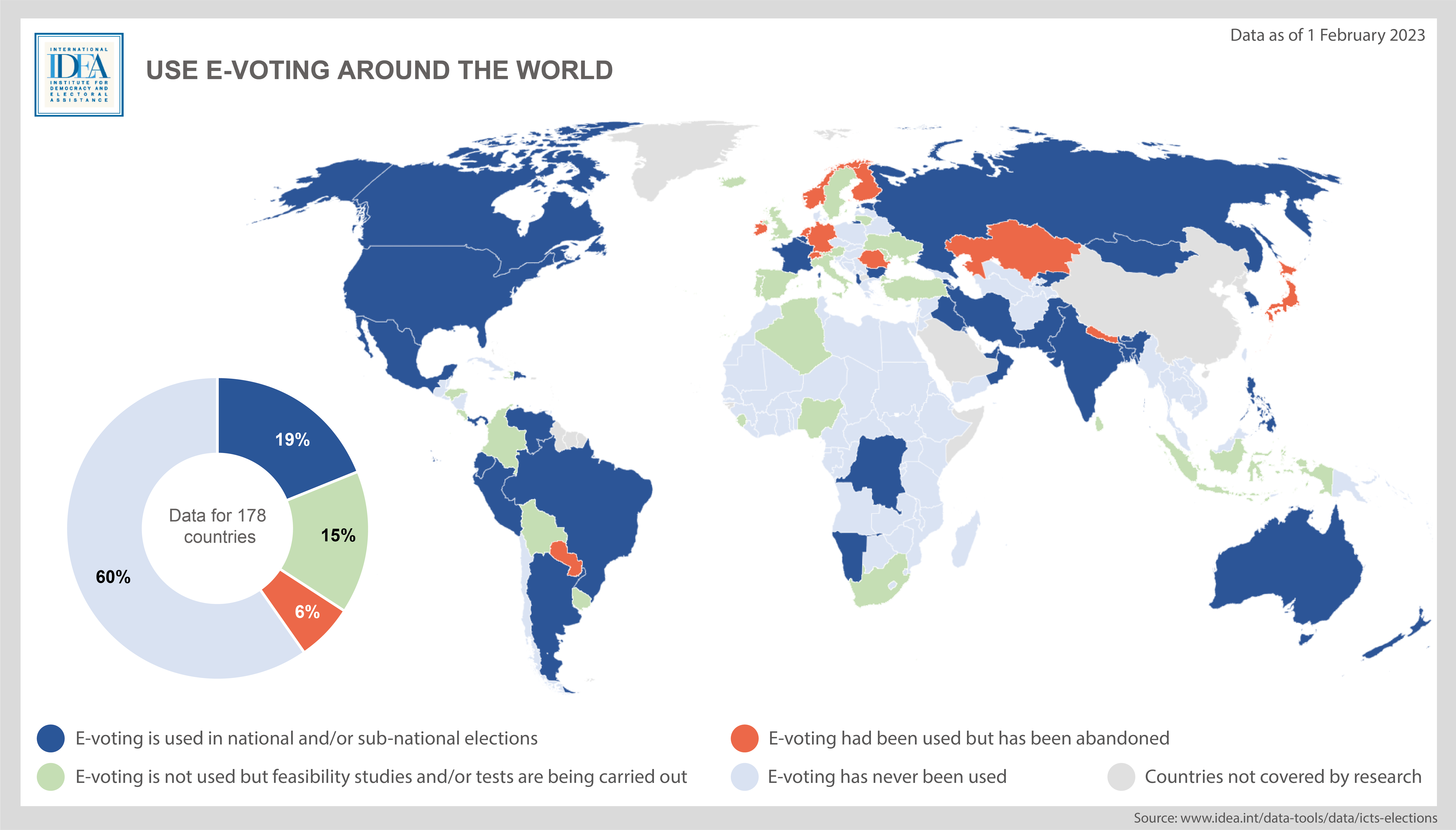 As depicted in Figure 1, currently 19% of countries (34 out of 178 countries included in the Database) use e-voting at national and/or sub-national levels. In 15% of countries, feasibility studies or tests are being or have been carried out with the possibility of using e-voting in elections in the future. It has to be noted, however, that in 11 countries (6%) e-voting has been abandoned and one of the main reasons is the concern about trust and security of the vote.
The figures that follow provide more detailed information about the use of specific types of e-voting. Whenever necessary, some in-depth information has also been provided in order to shed more light on the patterns of the use e-voting in specific countries.
Figure 2: Use of direct recording electronic (DREs) machines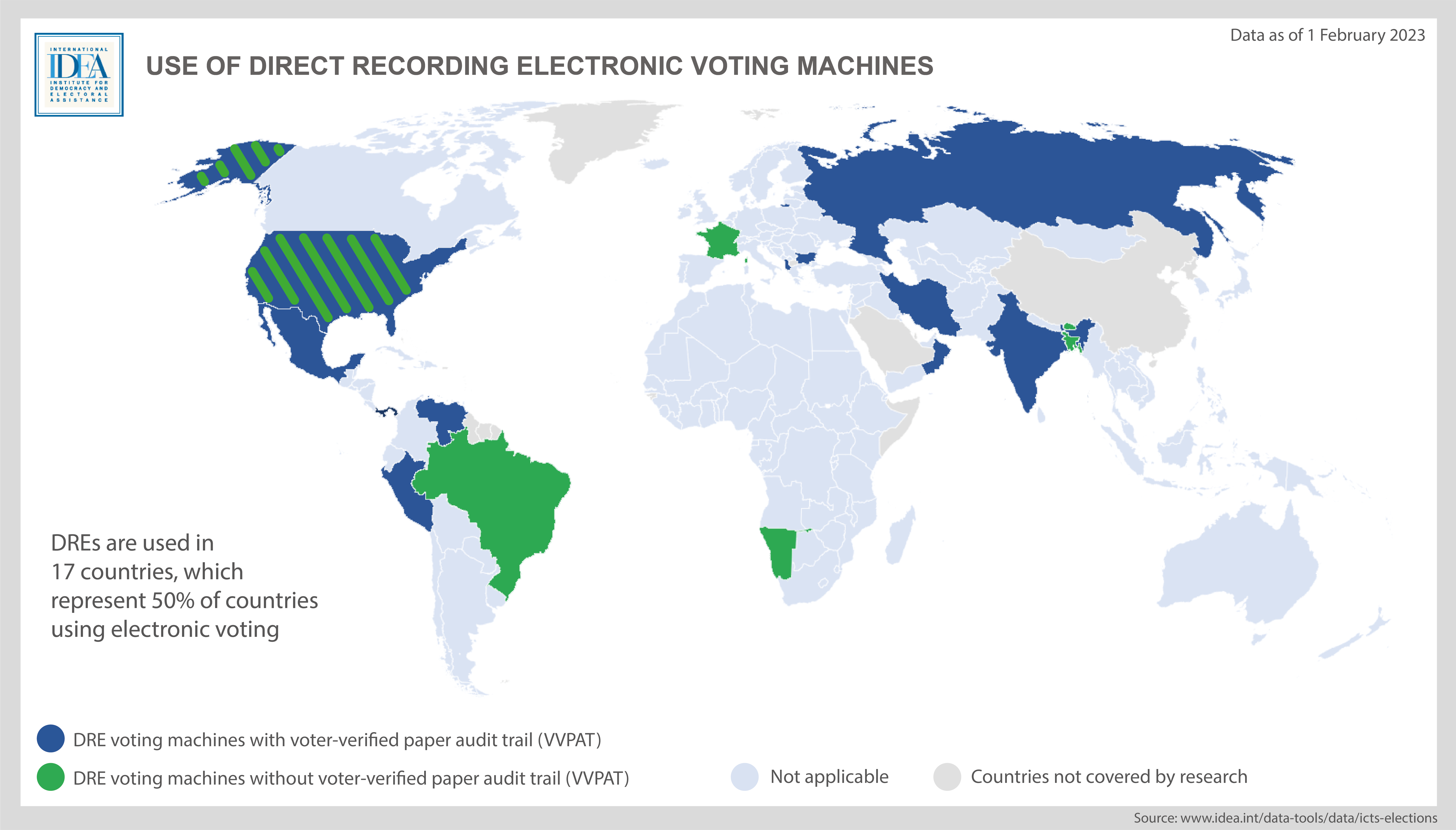 Figure 2 shows that 50% of countries using e-voting adopted DREs (17 out of 34 countries). Those countries use DREs either with or without voter-verified paper audit trail (VVPAT). The only exception is the US where some states adopted DREs with VVPAT and some without it. The countries using DREs are as follows:
DREs with VVPAT: Albania, Bulgaria, Fiji, India, Iran, Mexico, Oman, Panama, Peru, Russian Federation, Venezuela and some of the States the US;
DREs without VVPAT: Bangladesh, Bhutan, Brazil, France, Namibia and some of the States the US.
Figure 3: Use of Optical Mark Recognition (OMR) or Optical Character Recognition (OCR)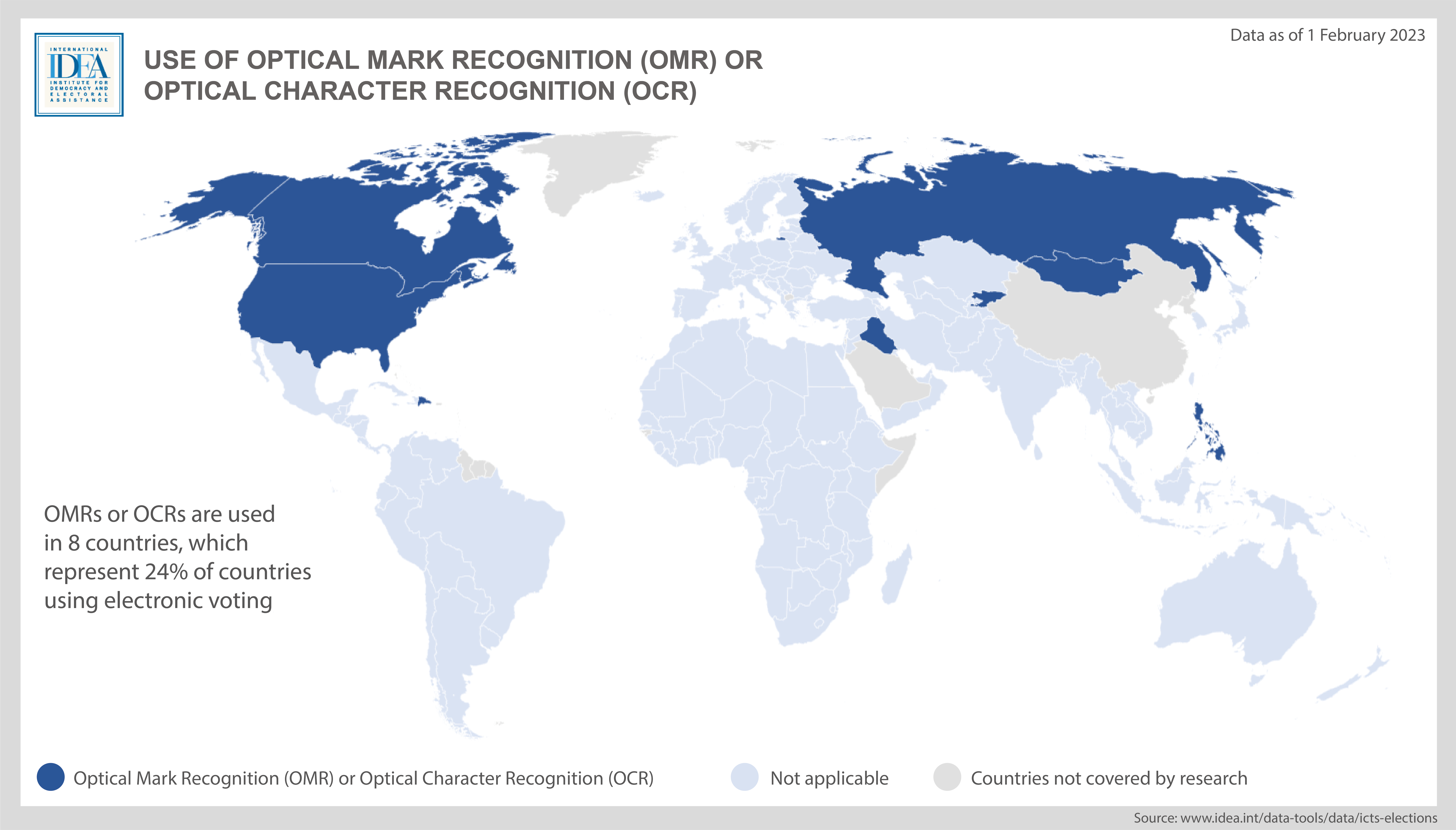 Figure 3 shows that 24% of countries using e-voting adopted OMRs or OCRs (8 out of 34 countries). The general pattern in the map shows that these technologies are used mainly in the northern hemisphere. Countries using OMRs or OCRs are Canada, Dominican Republic, Iraq, Kyrgyzstan, Mongolia, Philippines, Russian Federation, and the United States.
Figure 4: Use of internet voting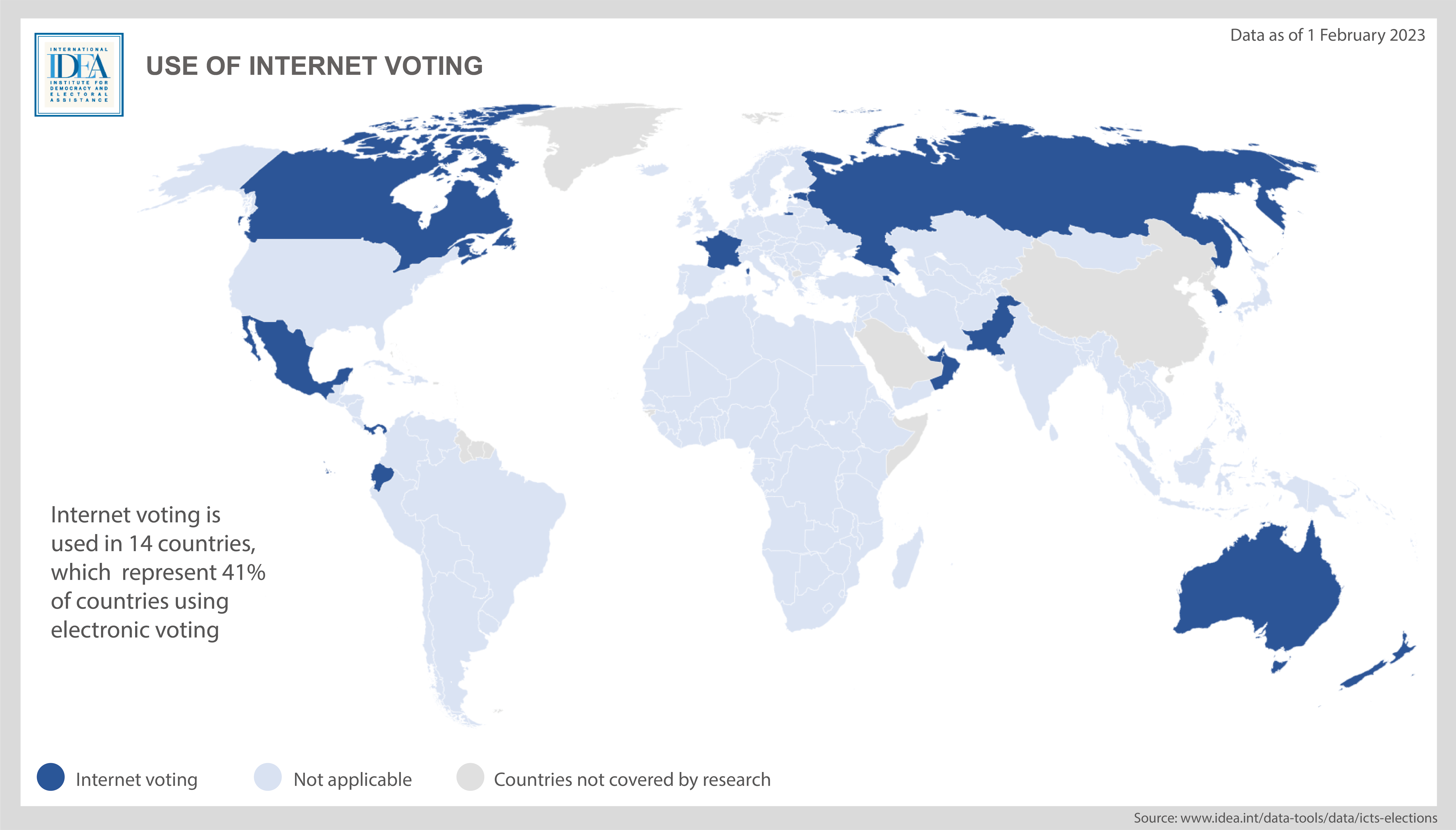 Figure 4 depicts the use of internet voting systems, which have been adopted by 41% of countries using e-voting (14 out of 34 countries). The following is the pattern of using internet voting in the world:
Within the country for all voters: Estonia and United Arab Emirates
Within the country for some voters: Australia (only in New South Wales), Canada (only in local elections), Russia (in some regions), South Korea (only for some institutions and organizations)
For out-of-country voting: Armenia, Ecuador, France, Mexico, New Zealand, Oman, Pakistan, Panama.
For military: Armenia.
It can be concluded that nowadays internet voting is mostly available for out-of-country voting, and when it is used within the country, it is mainly limited to certain groups of voters. It has to be noted that the US allows the votes from abroad to be send by email, which we did not consider as an internet voting.
For more up-to-date data please visit our ICT in Elections Database: https://www.idea.int/data-tools/data/icts-elections
2015 Infographic