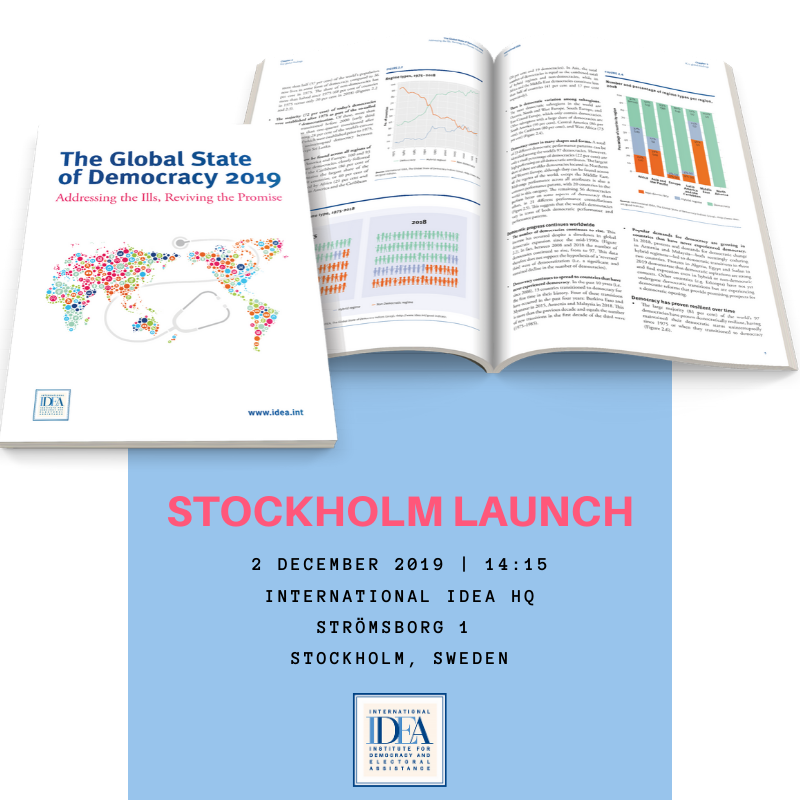 The Global State of Democracy 2019: Addressing the Ills, Reviving the Promise, the second edition of International IDEA's flagship report will be launched in Stockholm on 2 December 2019. The Global Launch took place in Brussels on 19 November 2019.
The Global State of Democracy 2019 Report provides a health check of the state of the world's democracy, analysing trends, opportunities and challenges that are seen across various regions and within regions. The analysis is based on the Global State of Democracy (GSoD) Indices, an index produced by International IDEA that measures democratic performance across 158 countries from 1975 to today.
The report aims to inform the global democracy debate with evidence and data and provide a nuanced analysis of how opportunities and challenges to democracy play out in different ways around the world, shaped by regional and country contexts. Beyond the diagnostic and in order to help rebalance the current democracy debate, the report also seeks to provide policy recommendations, building on the good practices and cases which have shown resilience in the face of challenges. These have been collected through International IDEA's more than 20 years of regional and country-level technical assistance in democratic reform throughout the world.
The report mainly targets policymakers and civil society organizations working at the national, regional or international levels, either implementing, supporting or advocating for democratic reforms. The report also targets those policymakers who may not be working directly on democratic reform but are involved in reform processes more broadly, be they economic, social or digital.
The Stockholm launch of the GSoD 2019 Report seeks to present the key findings of the report and discuss its policy relevance with policymakers from the Swedish bilateral donor community, the Swedish Ministry of Foreign Affairs, youth representatives, civil society organizations and opinion-makers, to identify common solutions. The event will also be enriched by the guest appearance of Ola Rosling, President of Gapminder Foundation who will interpret the GSoD data through his famous "bubble" presentation.
STOCKHOLM LAUNCH PROGRAMME
Moderator: Adina Trunk
14:15 - 14:20
Introductory Remarks
Gabriel Busquets Aparicio, Ambassador of Spain to Sweden, Co-Chair of the Council of Member States
Kevin Casas-Zamora, Secretary-General, International IDEA
14:20 - 14:30
Welcome Remarks
Annika Söder, State Secretary for Foreign Affairs, Ministry for Foreign Affairs of Sweden
14:30 - 14:35
GSoD film screening
14:35 - 14:55
Key global findings of report
Keboitse Machangana, Director of Global Programmes, International IDEA
14:55 - 15:10
Highlights of regional findings
Annika Silva-Leander, Head of Democracy Assessment and Political Analysis unit, International IDEA
15:10 - 15:35
"Bubble" presentation of GSoD data
Ola Rosling, Gapminder Foundation
15:35 - 16:05
Panel discussion: implications of the GSoD findings
Helena Bjuremalm, Deputy Head of Unit for Democracy and Human Rights, Swedish International Development Cooperation Agency (Sida)
Annika Silva-Leander, Head of Democracy Assessment and Political Analysis unit, International IDEA
Ola Rosling, Gapminder Foundation
16:05 - 16:30
Questions & Answers
16:30 - 16:40
Closing Remarks
Hugo Brauwers, Ambassador of Belgium to Sweden
Kevin Casas-Zamora, Secretary-General, International IDEA
Follow our GSoD2019 events and conversations on Facebook and Twitter with these hashtags:
#stateofdemocracy
#revivedemocracy
#GSoD2019
This event will be photographed, webcast (live streamed) and recorded. By registering or accepting to participate, you grant us permission to use your image or voice and statements in our event coverage material for use externally our media outlets, such as International IDEA's websites and social media platforms.
RSVP/Contacts:
Registration for this event is now closed. Please send any other inquiries to info@idea.int.