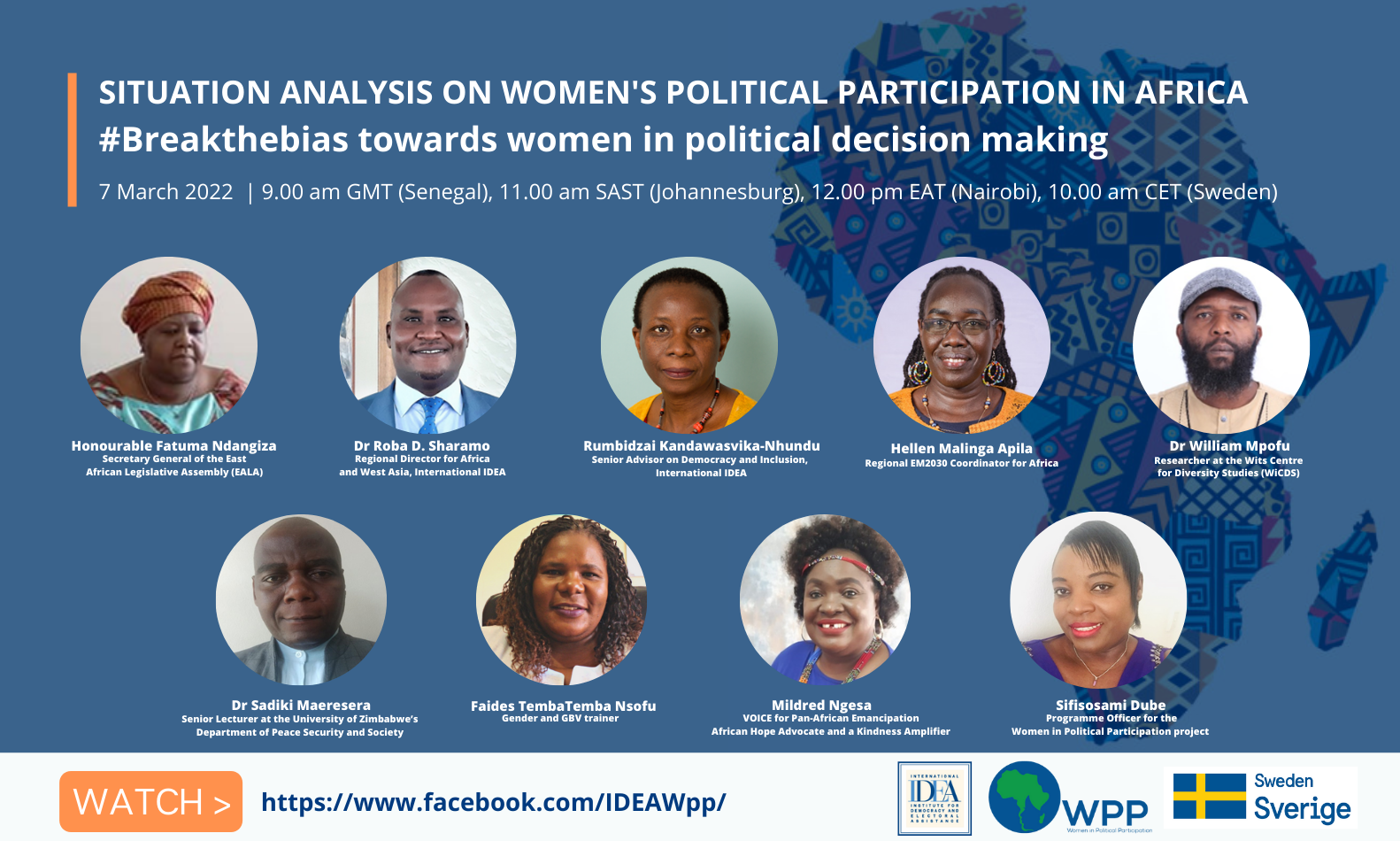 On the occasion of International Women's Day 2022, the Women in Political Participation (WPP) project invites you to the webinar Situation Analysis on Women's Political Participation in Africa: #Breakthebias towards women in political decision making.
The webinar will discuss the situation of women in political participation in Africa. The webinar is set to present the preliminary findings of the Situation Analysis Report produced by the International IDEA. The webinar occurs precedes the global commemoration of International Women's Day on the 8th of March 2022. The webinar will provide a platform to discuss the status of women in politics in various regions of Africa and what it means to be a woman in politics in Africa. In particular, the webinar will highlight some key success stories on women in political participation and how these can be used to cover the glaring gaps that exist. This webinar links to the International IDEA's Political Participation and Representation pillar.
Background Information
As part of the Women in Political Participation (WPP) project, International IDEA has developed regional situation analysis reports on women's political participation. These were guided by the eight country-specific reports produced by consortium partners from the project. The regional situation analysis reports highlight the barriers of women's political participation in Africa, the legal and policy framework, the role played by various institutions in enabling WPP, key gains in the continent and drivers of women in political participation in the continent. The role of the media is included in the consolidated report. The situation analysis report identifies the role played by actors such as political parties, civil society and regional bodies amongst others in creating an enabling environment for women to participate in politics. The preliminary findings of the report include the situation analysis of women in political participation from local government to the national level of governance.
International Women's Day (March 8) is a global day celebrating the social, economic, cultural, and political achievements of women. The day also marks a call to action for accelerating women's equality. IWD has occurred for well over a century, with the first IWD gathering in 1911 supported by over a million people. Today, IWD belongs to all groups collectively everywhere. IWD is not country, group or organization specific. As part of commemorating this global event, the WPP project aims to celebrate the women aspiring to be in politics, those already in politics and those supporting them. With this year's IWD theme as #BreakTheBias the webinar will provide a platform to discuss solutions in breaking the bias on women in decision making.
On #IWD2022, we celebrate Africa's distinct introduction of proactive measures in favour of fast-tracking women's participation in parliament. Currently, most African countries have at least one gender quota in place, including 13 countries that hold specifically reserved seats for women in parliament as opposed to legislated candidate or political party quotas. These reserved seats allow countries to hold high percentages of women members in parliament, such as Rwanda (61.25%), South Africa (46.35%), Senegal (41.82%), and Ethiopia (38.76%), and include more women and diverse perspectives in legislative decision-making. These few successes in women's representation in politics need to be celebrated on IWD and beyond while the low representation of women in politics, alarming levels of Election Violence Against Women (EVAW) and other red flags on women's participation in politics need urgent solutions. Young women are also at great risks of such forms of violence with some being threatened with rape and profiled negatively by the media.
African countries need to move beyond just numbers and look at root causes that keep women out of politics. The deeply entrenched patriarchy in all of Africa often manifests itself in violence against women in politics and other spheres of life. There is a need to uproot patriarchy by raising red flags of women in political distress. Similarly, governments must be able to hold each other accountable for these red flags through sub-regional processes and instruments. There is a need for substantive female leadership to advocate for gender-equal policies and even increase cooperation across party and ethnic lines. Such gender policies help challenge discriminatory laws, increase responsiveness to social issues, and remove legal barriers to women's access to services and economic opportunities. Laws do not change cultural norms, but they are a starting point for empowering women.
Event Agenda
TIME (GMT)

ACTIVITY

9.00 – 9.05

Introductions and welcome

9.05 – 9.10

Remarks from International IDEA and introduction of keynote speaker

Dr Roba Sharamo – International IDEA AWA Regional Director

9.10 – 9.30

Keynote address:

International Women's Day, what it means for women in political decision making.

Honourable Fatuma Ndangiza, EALA

9.30 – 9.50

Presentation of preliminary findings of the WPP Africa Situation Analysis

9.50 – 10.20

Sub-regional insights on the situation of women in political participation

Faides Temba Temba Nsofu – Southern Africa

Dr Sadiki Maeresera – West and Central Africa

Hellen Malinga Apilla – East Africa

North Africa – Dr William Mpofu

10.20 – 10.30

Global Perspectives on Women in Political Participation

Rumbidzai Kandawasvika-Nhundu - Senior Advisor on Democracy and Inclusion at International IDEA

10.30 – 10.40

Inputs from WPP Consortium Members

10.40 – 10.55

Open discussion

10.55– 11.00

Vote of thank and closure

Sifisosami Dube, International IDEA
Partner Organizations/collaborators:
RSVP/Contacts:
Sifisosami Dube, Programme Officer for the Women in Political Participation project based in Nairobi, Kenya. Email: s.dube@idea.int
Useful Links / Information: