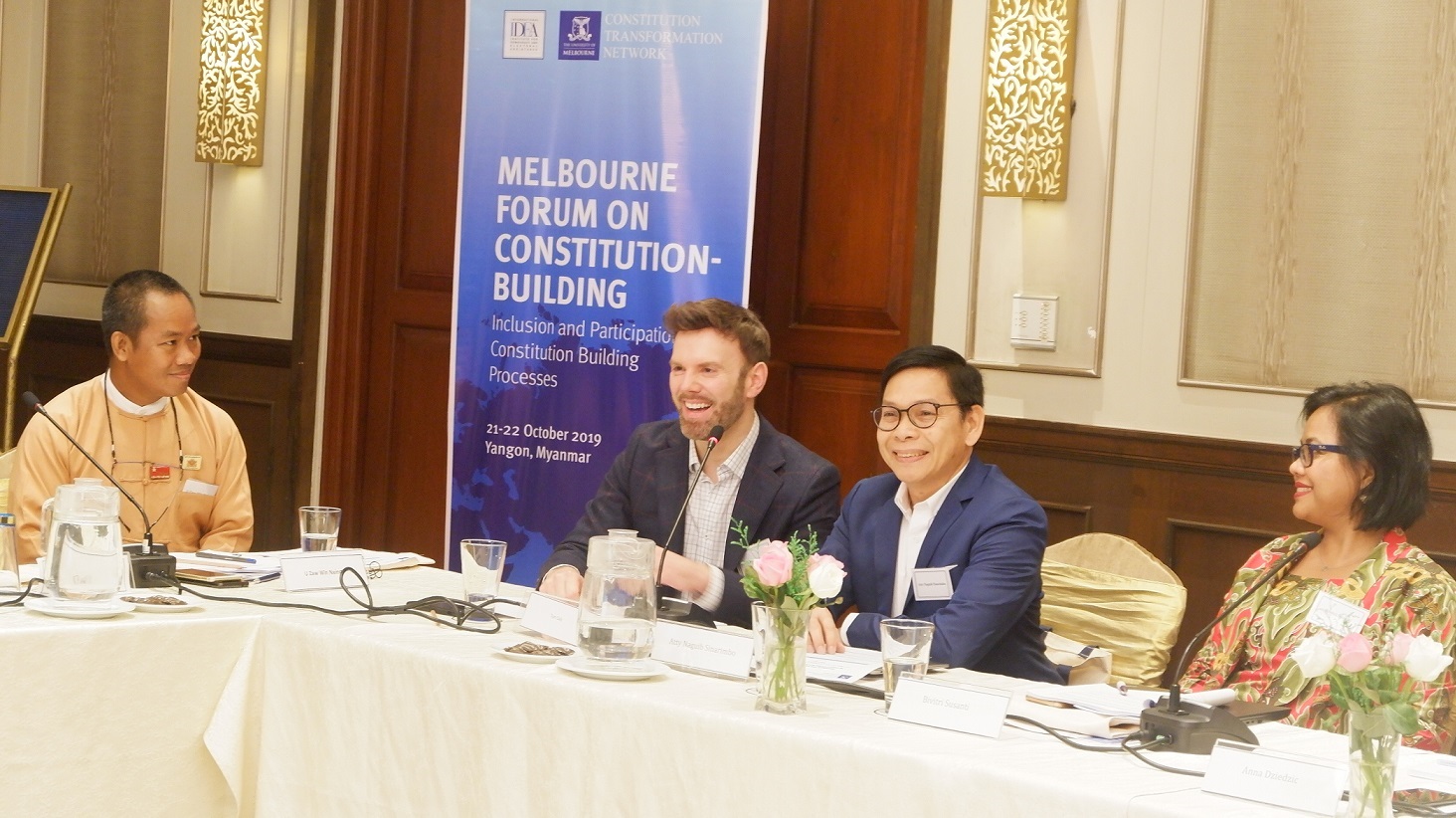 Image credit: International IDEA
The Melbourne Forum on Constitution Building is organized jointly by International IDEA and the Constitution Transformation Network at Melbourne Law School. The Melbourne Forum is an annual event that brings together practitioners and scholars from across the region to explore constitution-building themes of global importance from the perspective of states in the Asia Pacific.
The topic of the 2019 Melbourne Forum IV is "Inclusion and Participation in Constitution-Building". The Forum will take place in Yangon, Myanmar on 21-22 October 2019. This year's Forum is hosted by International IDEA's MyConstitution Project.
Melbourne Forum 2019 will explore the much discussed, but in many ways ambiguously defined, issues of inclusion and participation in constitution-building processes around Asia and the Pacific. While inclusion and participation are interdependent and related topics, they each also raise distinct issues, challenges and implications for the design and operation of constitution-building processes; they can also at times be at odds with one another. Inclusion for the purposes of the Forum is defined as "who" is involved in constitution-building processes—for example, one issue to be examined is the inclusion of combatants or former combatants in post-conflict constitution building. Participation on the other hand focuses on how to engage stakeholders from across society—the elusive "public"—in constitution building. While participation is key to the legitimacy of the outcome of constitution-building processes it also has to be thoughtfully designed to ensure it is meaningful and does not raise unrealistic expectations.
Thinking about the relationship and distinction between inclusion and participation, and how to make each effective in different contexts, raises a number of questions, namely: why, who, when, how and to what effect? Experience from around the region will be drawn upon to provide insight, if not answers, to these questions. The Forum will delve into these issues over the course of two days, and six sessions, with participants from throughout Asia and the Pacific including Indonesia, Mongolia, Nepal, Sri Lanka and the Philippines. The final session of the forum will focus on identifying particularly relevant learnings for Myanmar, the country where the Forum is hosted.
Attendance to the Melbourne Forum event is by invitation only. However, you can access reports and information at the website and follow along on Twitter at the hashtags: #MFconstitution and #MF4.
Partner Organizations/collaborators:
Constitution Transformation Network: https://law.unimelb.edu.au/constitutional-transformations/MF/2019-melbourne-forum
Useful Links / Information: