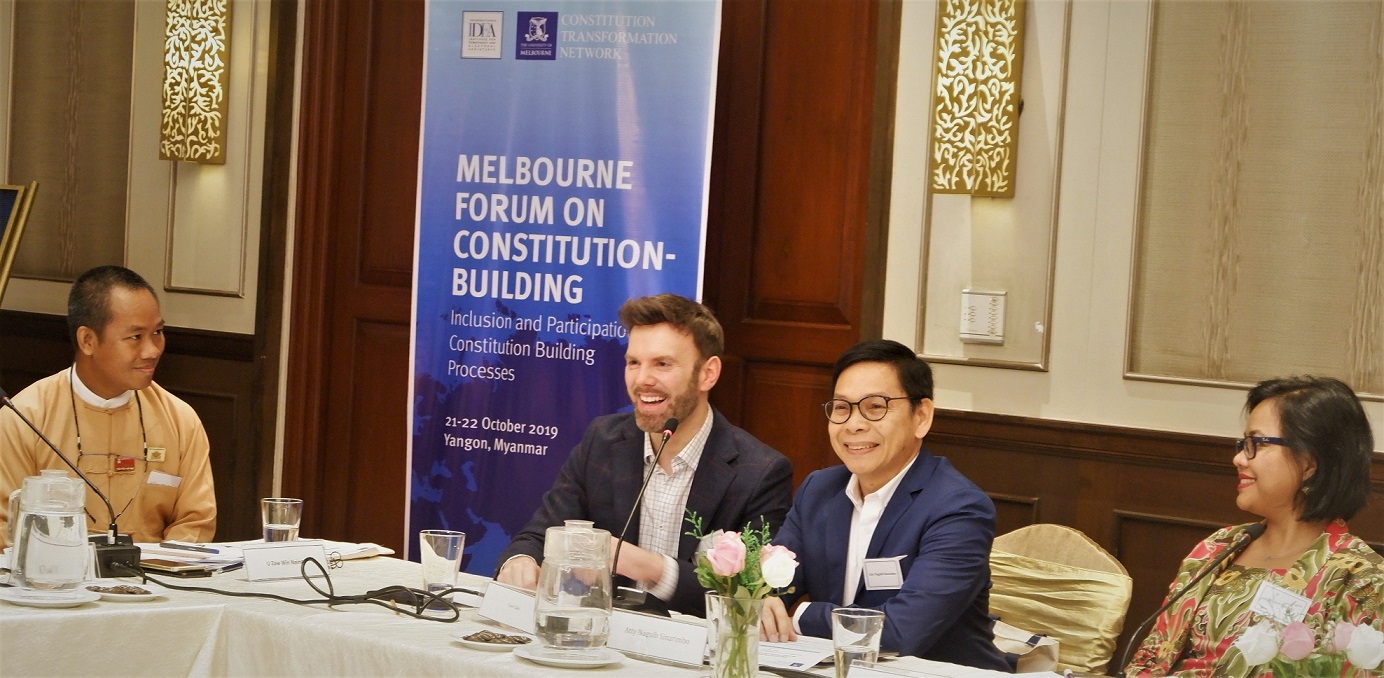 Image credit: an archive photo, International IDEA
The Melbourne Forum on Constitution-Building in Asia and the Pacific is jointly organized by International IDEA and the Constitution Transformation Network at Melbourne Law School. The Melbourne Forum is an annual event that brings together practitioners and scholars from across the region to explore constitution-building themes of global importance from the perspective of states and peoples in Asia and the Pacific.
The topic and format of the 2020 Melbourne Forum were adapted in response to the historic impact of the COVID-19 pandemic. The Forum topic is "Representation in Democracies During Emergencies" and the format will be a series of four online webinars over the course of September 2020.
Melbourne Forum 2020 recognizes that representation is critical, both in constitution-building processes and in the institutions for democratic government that constitutions put in place. In both theory and practice, representation raises a host of questions for constitutional arrangements, however, and these questions only become more pressing during emergencies.
Representation faces particular challenges in times of emergency. Emergencies come in a wide variety of forms, however, potentially affecting representation in different ways. The Melbourne Forum 2020 uses as its lens into the impact of emergencies on democratic representation the Covid-19 pandemic, which has given rise to both health and economic emergencies of major proportions in countries across the world. These two linked emergencies, in turn, have called for an effective response by states, with results that have varied from impressive success to significant failure. To examine these dynamics and their links with representation, Melbourne Forum 2020 will draw on the experiences of states across Asia and the Pacific, as a vast and diverse region of the world that represents a substantial component of global constitutional experience.
The Forum will be divided into four webinars that take place every Thursday in September as follows:
Emergency powers and COVID-19 (3rd September)
Law-making and accountability in responding to COVID-19 (10th September)
Multi-level government and COVID-19 (17th September)
Beyond representation: independent and international institutions (24th September)
To register for one or more of the webinars, please use the following link: https://law.unimelb.edu.au/constitutional-transformations/MF/2020-melbourne-forum. Reports from previous Melbourne Forum's and more information on the initiative can be found at our website.
Partner Organizations/collaborators:
Constitution Transformation Network at Melbourne Law School