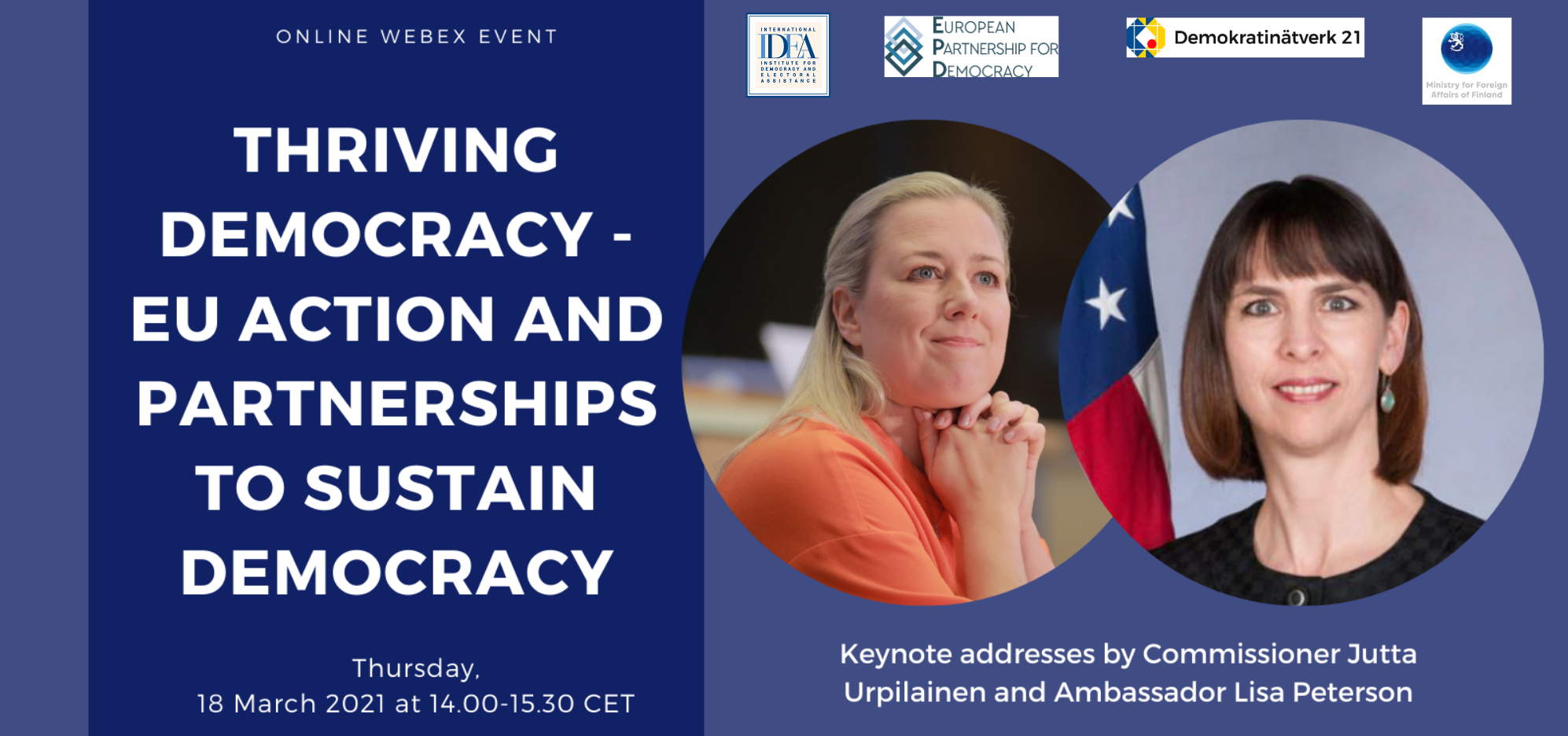 Join us, for a high-level event on democratic renewal with opening keynotes by European Commissioner Jutta Urpilainen and US Assistant Secretary for Democracy Lisa Peterson.
In recent years, the world has experienced an increase in democratic backsliding, authoritarian tendencies in many countries and rising hybrid influencing. To make democracy thrive in the world, there is a need for multilateral partnerships, which includes continued EU leadership and enhanced EU action. This event will provide a forum to discuss, among international leaders, civil society and policymakers, EU democracy support in the post-Covid recovery. It will discuss renewed multilateral approaches and partnerships, including transatlantic opportunities, to sustain democracy.
International IDEA's Global Monitor of Covid-19´s impact on Democracy and Human Rights has demonstrated that democratic development has been in decline for years. At the same time, many autocracies are expanding their powers, even if pro-democracy resistance is also growing. Hybrid influencing and digital surveillance are undermining the integrity of democratic processes.
According to the EU's Lisbon Treaty, democracy is a fundamental value of the Union and a guiding principle of its external action. In the EU Action Plan on Human Rights and Democracy that was launched in November 2020, the EU committed to promote democracy and good governance as part of sustainable development. Within the EU itself, the von der Leyen Commission will also take action on improving the resilience of European democracy, based on its new European Democracy Action Plan.
There is a renewed momentum for multilateral cooperation and partnerships to sustain democracy. In her State of the Union speech, European Commission President, Ursula von der Leyen, reaffirmed the EU's commitment to democratic systems of governance and society. The EU High Representative for Foreign Affairs, Josep Borrell, has called for greater EU democracy support and 'strong cooperation with like-minded democracies'. The European Commissioner for International Partnerships Jutta Urpilainen has described democracy, rule of law and human rights as 'a guiding light' in the post-Covid recovery. In the US, there is bipartisan support for new efforts to strengthen cooperation among democracies. President Joe Biden has set out a plan to host a global Summit for Democracy, which the EU has decided to support.
The event will be opened by Ambassador Marja Rislakki, Permanent Representative of Finland to the EU.
The Keynote Addresses will be delivered by Ms Jutta Urpilainen, EU Commissioner for International Partnerships, and Ambassador Lisa Peterson, Senior Official for Civilian Security, Democracy, and Human Rights and Acting Assistant Secretary at the US State Department.
These Keynotes will be followed by a timely debate on EU-level and multilateral approaches to defending democracy. High-level discussants include:
Staffan I. Lindberg (Democracy Network 21, Director of V-Dem Institute)
Kevin Casas-Zamora (Secretary-General, International IDEA)
Jonas Parello-Plesner (Executive Director, The Alliance of Democracies Foundation)
Teija Tiilikainen (Director, European Centre of Excellence for Countering Hybrid Threats)
Partner Organizations/collaborators:
Ministry for Foreign Affairs of Finland (as the Presidency of Nordic Council of Ministers), Democracy Network 21 (a Finnish-Swedish multi-stakeholder platform), and the European Partnership for Democracy (EPD)
RSVP/Contacts:
Please register here. You will receive an automatic email with an invitation and instructions how to join the event.