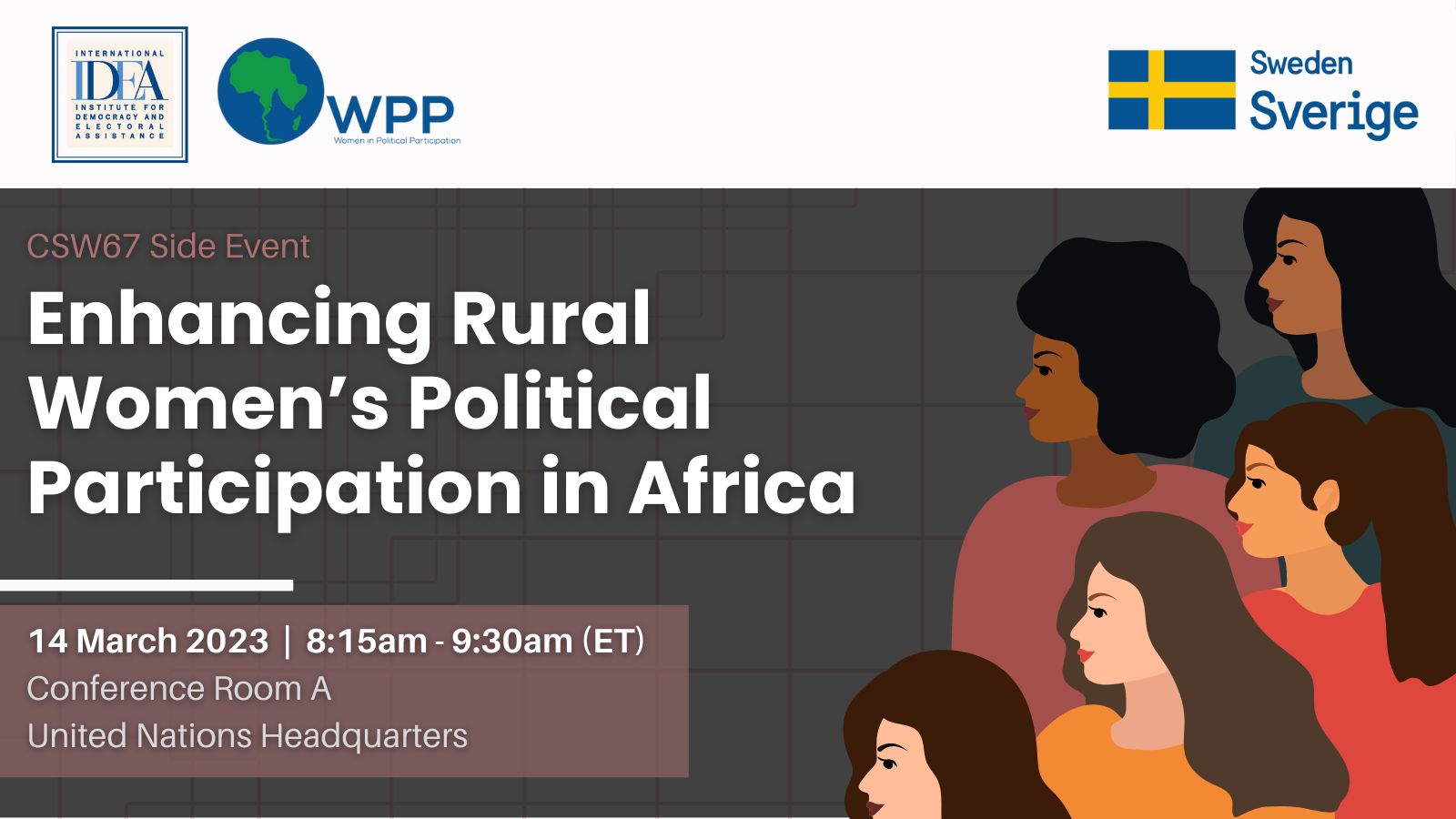 While many African Member States have signed and ratified regional and global instruments to promote women's political participation, the proportion of women in parliament is at a paltry 24% far from the targets set in these instruments. Efforts to increase women's political participation and representation of women in Africa in line with the Maputo Protocol of 2003, various associated sub-regional protocols and standards and the Sustainable Development Goals (SDGs) can still be emulated and need to be reflected in rural Africa.
The Convention on the Elimination of All Forms of Discrimination against Women and the Convention on the Rights of the Child, and the Optional Protocols thereto, as well as other relevant conventions and treaties, such as the International Covenant on Economic, Social and Cultural Rights and the International Covenant on Civil and Political Rights, provide an international legal framework and a comprehensive set of measures for realizing gender equality and the empowerment of all women and girls and the full and equal enjoyment of all human rights and fundamental freedoms by all women and girls, including those living in rural areas, throughout their life cycle.
The Commission stresses the importance of strengthening the voice, agency, participation and leadership of rural women and girls, and the full, equal and effective participation of women at all levels of decision-making. It recognizes the critical role played by rural women's civil society organizations, trade unions, enterprises and cooperatives in gathering, uniting and supporting rural women in all spheres. The Commission recognizes that indigenous women and girls living in rural and remote areas, regardless of age, often face violence and higher rates of poverty, limited access to opportunities for decision making.
Gender equality sets out actions around freedom of association, peaceful assembly, collective bargaining, and participation in conflict prevention and peace processes. The important role of civil society and women human rights defenders in promoting and protecting the human rights and fundamental freedoms of rural women for them to realise they full potential in decision making cannot be ignored.
PROGRAMME
Side event introductions and overview:
Moderator: Dr. Annika Silva-Leander, Head of North America and Deputy Permanent Observer to the UN
The status of rural women in political decision making:
Emma Kaliya – Malawi
Hon. Daniel Molokele Tsiye - SADC
Testimonials from rural women politicians:
Cnllr Felicia Motinga - Namibia
Hon. Brightness Mangora - Zimbabwe
Best Practices for rural women's political participation:
Hon Chikas Kumle – Nigeria
Hon. Elene Marie Ndione Tine – Senegal
Roadmap towards achieving equal participation of rural women in politics:
Patricia Muganhiri - Zimbabwe
Hon. Fatuma Ndangiza - Rwanda
Vote of thanks and closure:
Partner Organizations/collaborators:
RSVP/Contacts:
Register for this event here. Please note that registration for non-UN pass holders will close on Thursday, 9 March 2023 at 5:00pm (ET).
For any additional information, please contact Ms Amanda Sourek (a.sourek@idea.int)