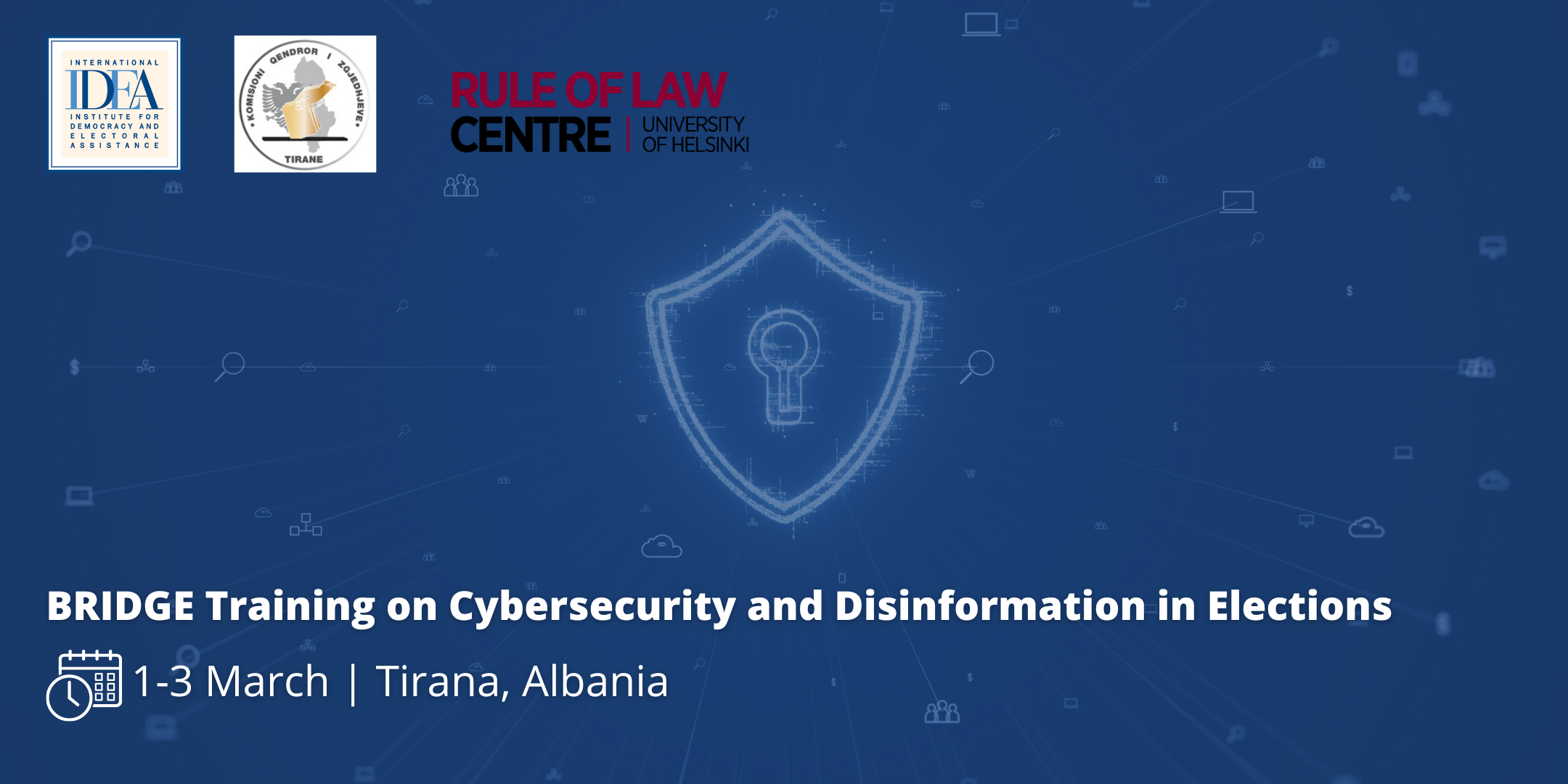 International IDEA and Rule of Law Centre of Finland in partnership with the Central Election Commission are organizing a three-day Workshop on Cybersecurity and Disinformation in Elections (a BRIDGE Training Module), in the framework of the project "Integrity and Trust in the Albanian Elections".
Cybersecurity is one of the greatest electoral challenges of our times. Vulnerabilities vary from country to country, but may typically result in: cyberattacks against election-related infrastructure aimed at breaching the confidentiality, integrity and availability of election technology and data; disinformation campaigns that attempt to undermine the credibility of the electoral administration and democratic institutions; cyberattacks against electoral stakeholders, political parties, candidates, media and campaigns; and disinformation campaigns designed to shape the political debate.
The increased exposure that comes with the increased use of technology in the campaigns and election management, along with the recent cybersecurity incidents that targeted key government agencies in Albania, call for higher attention and preparedness.
The Central Election Commission has prioritized the mitigation of digital threats ahead of the May 2023 local government elections. This workshop follows the Interagency Cooperation Conference on Digitalization of the Elections and Cybersecurity of December 15th, 2022.
This module provides foundational concepts, the principles and values that underpin good electoral administration and seeks to apply them through a cyber-security and disinformation framework. The module is not specifically aimed at security professionals or ICT staff but rather at all staff engaged in administering electoral events as well as electoral support organizations, CSOs and journalists, to underscore the key concept that cyber security is every one's responsibility.
The module will:
Provide participants with language to discuss issues of cybersecurity
Engage participants in understanding the interaction of electoral principles & effective ICT security
Generate informed discussions amongst participants about ICT security issues
Explore a range of cyber security threats that can impact on the delivery of electoral events and the integrity of results
Examine basic guidelines on the use of ICT security frameworks and practices
Investigate issues which impact on the security of the electoral process through technology
---
BRIDGE stands for Building Resources in Democracy, Governance and Elections. It is a comprehensive professional development program with a particular focus on electoral processes. It offers the most comprehensive training curriculum and workshop package in the field of elections, as well as an adult learning training methodology that encourages participation and draws from participants' experience.
BRIDGE is the preferred and most commonly used professional development and capacity strengthening tool for election administrations around the world and is designed to be used as a tool within a broader, capacity development framework. BRIDGE is a partnership between the Australian Electoral Commission (AEC), the International Foundation of Electoral Systems (IFES), the International Institute for Democracy and Electoral Assistance (International IDEA), the United Nations Development Programme (UNDP) and the United Nations Department of Political and Peacebuilding Affairs (DPPA).

Partner Organizations/collaborators:
The International Institute for Democracy and Electoral Assistance (International IDEA) and Rule of Law Centre of Finland in partnership with Central Election Commission (CEC) are implementing the project "Integrity and Trust in the Albanian Elections: Fo