Back to overview
Sixth Annual Melbourne Forum on Constitution-building in Asia and the Pacific: Democracy, Constitutions and Dealing with the World
02 November 2021 - 04 November 2021
13:00-17:00 AEST
Australia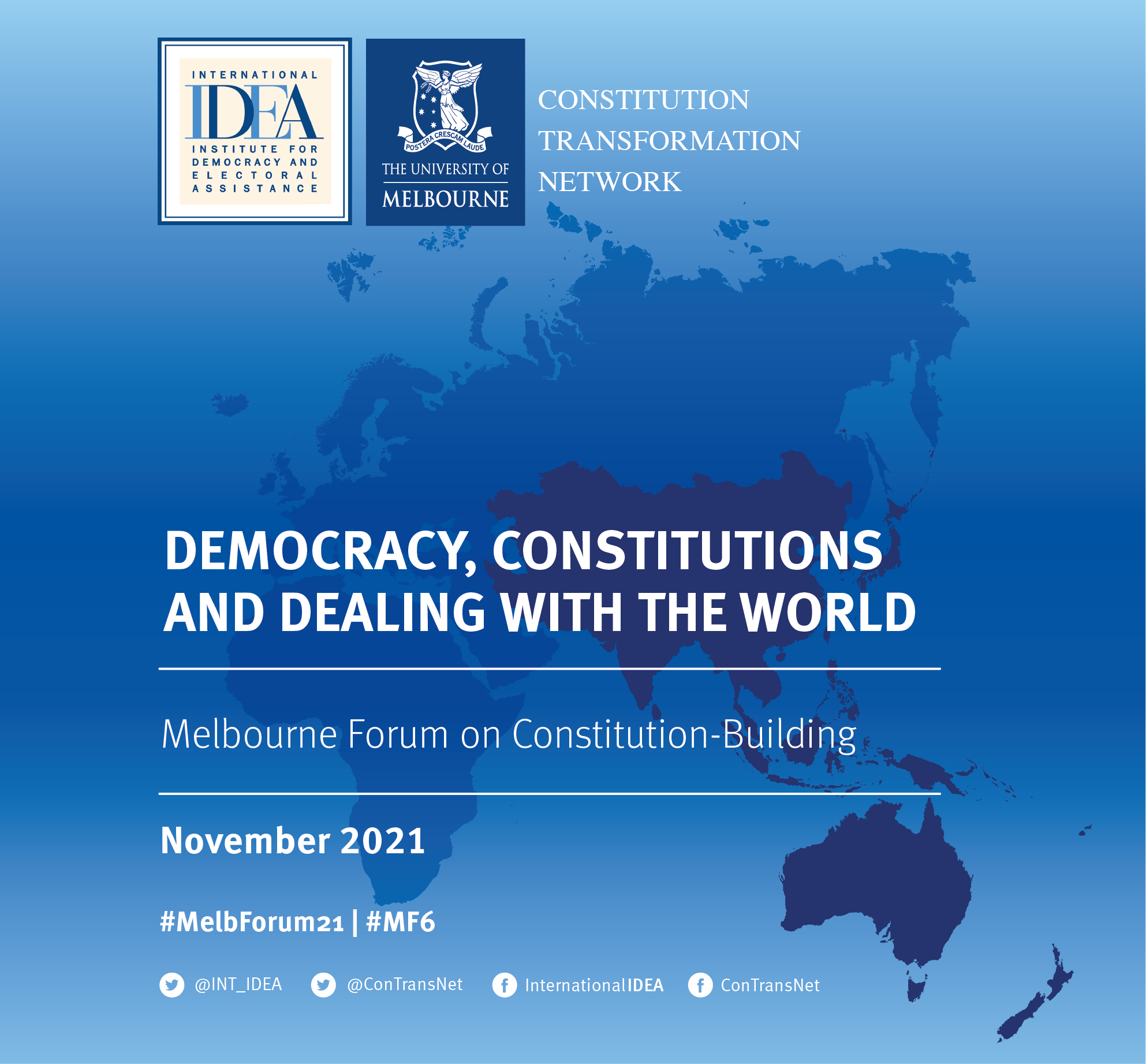 International IDEA and the Constitution Transformation Network at Melbourne Law School will jointly organize The Melbourne Forum on Constitution-Building in Asia and the Pacific—an annual event that brings together practitioners and scholars from to explore constitution-building themes of global importance from a regional perspective.
The 2021 Melbourne Forum explores the theme of  "Democracy, Constitutions and Dealing with the World". 
Melbourne Forum 2021 will explore the 'external face' of constitutions, vis-à-vis the rest of the world. The outward-looking or external face of a constitution manifests itself in many ways. Most obviously, constitutions typically provide the means for identifying the citizens of the state and sometimes also the territory of the state. Some constitutions commit the state to particular international policy positions, such as peace or multilateralism. All constitutions, expressly or by implication, identify the national institutions that have primary responsibility for conducting international relations on behalf of the state. Many constitutions specifically provide for the status of international in domestic law.
The external face of national constitutions has always been important, but its significance is greater than ever in the current age of globalization, with implications for democracy. One way to better understand and hopefully respond to the impact of globalization on democracy is to consider ways in which constitutions support and establish democratic practices, and ensure that these apply also to a state's  dealings with the outside world.
Given the ongoing pandemic, the Forum will tackle four of the most pressing issues in this space across four sessions over two afternoons in November:
International approval of new constitutions (Tuesday 2 November, 13:00-15:00 AEST)
Constitutional frameworks for treaties (Tuesday 2 November, 15:00-17:00 AEST)
Constitutional frameworks for international investment (Thursday 4 November, 13:00-15:00 AEST)
Sub-national engagement in international relations (Thursday 4 November, 15:00-17:00 AEST)
To register* for one or more of the virtual round tables, please use the following link:
https://law.unimelb.edu.au/constitutional-transformations/Melbourne-Forum/2021-melbourne-forum.
Reports from previous Melbourne Forums and more information on the initiative can be found at our website.
Feedback
We advance democracy worldwide, as a universal human aspiration