Back to overview
Political Finance Assessment of Fiji Report Launch
28 October 2021
14:00 Fiji Time
Suva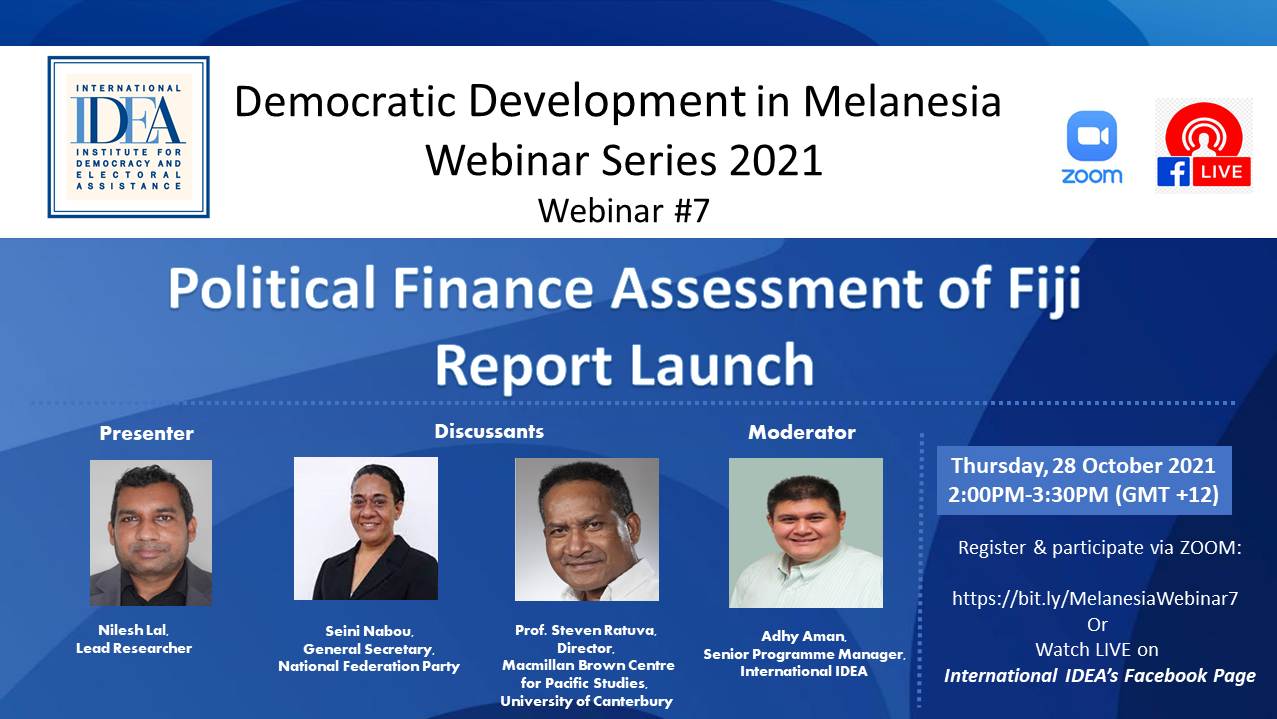 The seventh webinar under the Democratic Development in Melanesia Webinar series 2021 will be launching the Report on Political Finance Assessment of Fiji.  
This Report, which is the first of its kind, is undertaking a systematic study of the political finance regulatory framework in Fiji—using an internationally developed, tried and tested analytical framework. The study is part of a larger International IDEA initiative to review political finance systems in selected countries in order to advance an evidence-based global policy debate on money in politics. Through the Webinar, International IDEA hopes the speakers and discussants can unpack the findings of the Report, and opened them up for broader discussion.
Logistics 
Date: 28 October 2021 

Time: 14:00–15:30 GMT +12 

Platform: Zoom 
Presenter 
Nilesh Lal, Lead Researcher 
Discussants 
Seini Nabou, General Secretary, National Federation Party 

Prof. Steven Ratuva, Director MacMillan Brown Centre for Pacific Studies, University of Canterbury, New Zealand 
Moderator  
Adhy Aman, Senior Programme Manager, International IDEA
* Individuals noted on any UN sanctions list (United Nations Security Council Consolidated List) or European Union sanctions list are not allowed to participate in any International IDEA events.
Feedback
We advance democracy worldwide, as a universal human aspiration