Back to overview
HLPF 2023: SDG16+ as an enabler for the 2030 Agenda
12 July 2023
18:30-20:00 (ET)
UNHQ, New York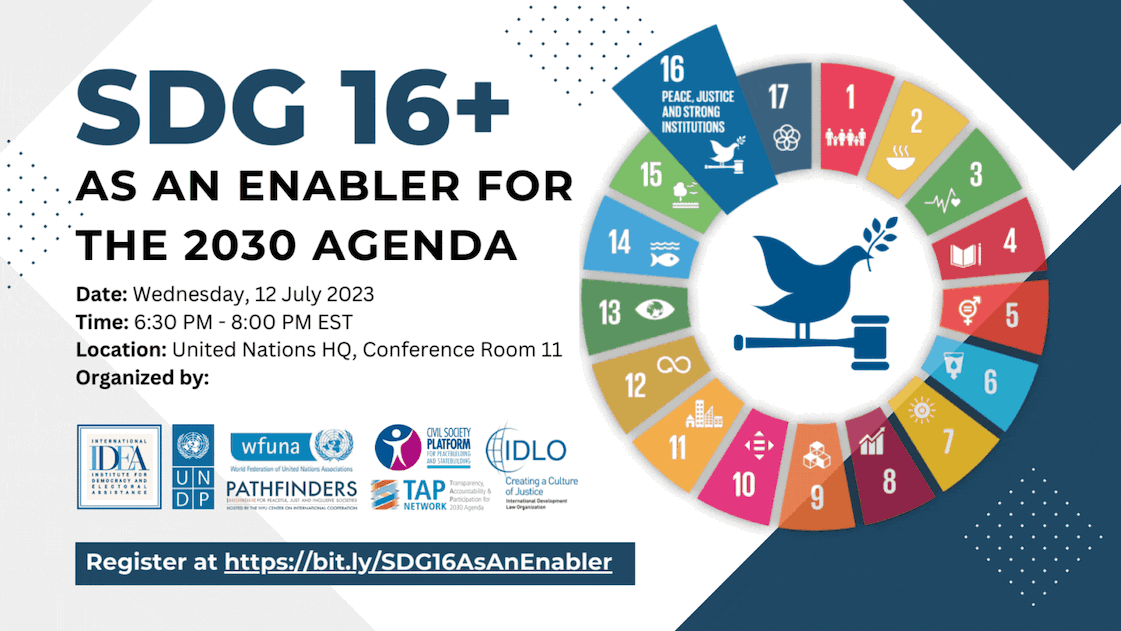 Halfway to the 2030 Agenda and with an eye to the SDG Summit, this side-event brings together stakeholders from across the SDG16+ community to take stock of progress towards SDG16+ and share in lessons learned and strategic approaches for strengthened implementation going forward.  As such, it will also look to key opportunities for mobilization leading into the SDG Summit in September 2023 and beyond, drawing upon recent and upcoming research by the SDG16+ community (including the TAP Network, the Pathfinders, UNDP, and International IDEA).
Amidst a context of poly-crisis and general backsliding of the SDGs, this discussion specifically will identify opportunities for accelerated implementation of the SDG16+ targets for peace, justice, equality and inclusion at all levels, highlighting official and non-official data as a driver of change, unpacking interlinkages for scaled outcomes across the 2030 Agenda, and amplifying the experience and evidence-based solutions that exist. Additional thought will be given to the critical importance of these issues to sustainable development, more generally, and as a buffer against inevitable setbacks.
Delivery of improved and responsive social contacts requires the delivery of SDG16+. As we look to the various milestones before us, this event provides an opportunity to come together and demonstrate our collective commitments to, and action towards, a more peaceful, just and inclusive world.
Format
This UN High-Level Political Forum side-event will feature an interactive and recommendations-focused Davos-style discussion. Speakers will include member states, civil society, UN representatives, international organizations and other stakeholders.  Questions can be submitted by participants in advance through the registration form.
List of speakers
Ambassador Karlito Nunes, Permanent Representative, Permanent Mission of Timor-Leste to the United Nations 
Vakhtang Katamadze, Head of the Policy Planning and Government Coordination Department, Administration of the Government of Georgia 
Sarah Lister, Head of Governance, UNDP 
John Romano, Director, TAP Network  
Massimo Tommasoli, Director of Global Programmes, International IDEA 
Margaret Williams, SDG16+ AD, Pathfinders
Discussants
Peter van Sluijs, Coordinator, Civil Society Platform for Peacebuilding and Statebuilding 
Henk-Jan Brinkman, Permanent Observer to the UN, International Development Law Organization
Cheri-Leigh Erasmus, Co-CEO, Accountability Lab
Feedback
We advance democracy worldwide, as a universal human aspiration