Back to overview
Global Democracy Coalition Forum
07 December 2021
All day event
Online Event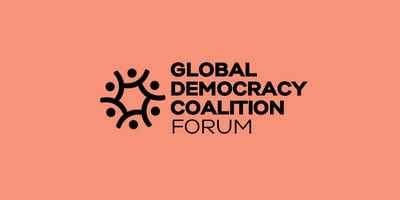 International IDEA is convening a global multistakeholder coalition for democracy in a virtual forum to be held for 24 hours on 7 December 2021. The purpose of the Global Democracy Coalition Forum is to facilitate a global conversation on democracy, as inputs to the Summit for Democracy, convened by the United States Government and to be held on 9 and 10 December 2021.
The Forum seeks to provide a platform for voices, actors and issues that may not be part of the official Summit and will thereby contribute to broadening the discussions of the Summit.
The Forum will be held virtually and will consist of one day of over 26 live and recorded webinars with the participation of 34 democracy organizations around the world (and counting) held under the common brand "Global Democracy Coalition Forum" on key challenges, opportunities and solutions to strengthen, protect and renew democracy globally across and beyond the three pillars of the Summit for Democracy (human rights, corruption and rising authoritarianism). The webinars will be recorded and accessible on a webpage after the forum is over to help inform discussions in and after the Summit for Democracy 2021 and ahead of the 2022 Summit. Coalition members will engage actors from around the world, including global thought-leaders, prominent personalities, academics, experts, democracy activists and practitioners.
If your organization is interested in organizing a webinar under the umbrella of the "Global Democracy Coalition Forum", contact a.silva-leander@idea.int and a.sourek@idea.int.
Join the conversation on social media: #GlobalDemocracyCoalition
Partner organizations include:
International IDEA
Freedom House
National Democratic Institute
Club de Madrid
IFES
Consortium for Elections and Political Process Strengthening (CEPPS)
International Republican Institute
German Marshall Fund/Alliance for Securing Democracy
The Oslo Center
European Partnership for Democracy (EPD)
Community of Democracies
Global Forum for Media Development
European Endowment for Democracy
The Voice Inc
Japan Center for International Exchange
National Endowment for Democracy
Demos Finland
Westminster Foundation for Democracy
Article 19
Forum of Federations
The Carter Center
Asian Network for Free Elections (ANFREL)
Organizations and actors that will be participating in the webinars include:
SDG16 Data Initiative
V-Dem Institute
Redlad
Fundación Andrés Bello
Internews
Democracy activists
Former heads of state
Counterpart International
Feedback
We advance democracy worldwide, as a universal human aspiration