Back to overview
Statement at UN Global Digital Compact: Deep Dive on Inclusion and Connectivity
Speech delivered: March 27, 2023
Event:
•
Location: New York, USA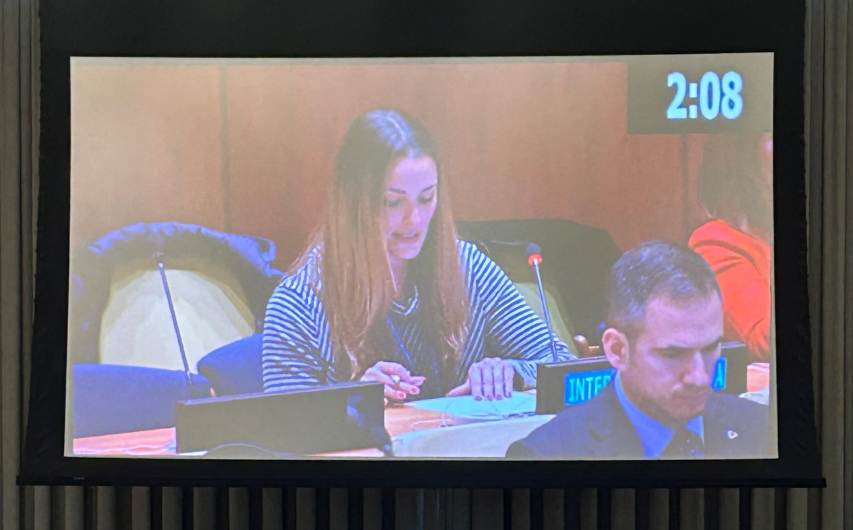 Statement delivered by Ms Amanda Sourek on behalf of International IDEA
"Global Digital Compact"
Deep Dive: Digital Inclusion and Connectivity
27 March 2023
New York, United Nations Headquarters
Statement by
Kevin Casas-Zamora
Secretary-General
International Institute for Democracy and Electoral Assistance (IDEA)
Excellencies,
We would like to thank the co-facilitators of Sweden and Rwanda for convening this series of deep dives on important thematic issues that we hope to see reflected in the Global Digital Compact.
Since 1995, International IDEA has developed expertise in the areas of electoral and constitution building processes, women's political participation, assessing the quality and performance of democracies around the world, and, more recently, on digitalization and democracy. On the basis of that experience, we reiterate the importance of carefully evaluating the impact of digital technologies on democracy and human rights. This exercise is urgent at a time when new and extremely disruptive technologies like machine learning and artificial intelligence are being developed.
This global discussion should be pursued with the value of inclusion at its heart. This should be reflected in at least three ways:
First, inclusion with regards to the process. The discussion of the impacts of digital technologies on democracy and human rights, as well as the mitigation of their worst effects, cannot be left exclusively in the hands of governments and private firms. A genuinely open debate is needed, where a great variety of voices, including those of disadvantaged groups, which are seldom represented in these conversations, are heard. It has been proven, time and again, that neither the development of digital technologies, nor the debates and interactions that they enable, treat all groups equally. They incorporate significant biases that deserve to be discussed and confronted. Hence, consultations with civil society organizations representing women, youth, and other marginalized groups ought to be an indispensable part of the process leading to a Global Digital Compact.
Second, inclusion with regards to access to technology. Digital technologies have become a key infrastructure to enable human activity. For human beings to influence decisions that affect their lives, permanent access to digital technologies is increasingly becoming a pre-requisite. During the COVID-19 pandemic, we witnessed how divergent levels of access to digital services online sharply increased inequalities all over the world. In this time and age, digital exclusion leads inevitably to social and political exclusion. The Global Digital Compact should consider access to digital technologies –and particularly the Internet—as a fundamental entitlement for all human beings.
Third, inclusion with regards to attempts to break up the internet for political purposes. Internet connectivity should be protected as a global public good and shielded from attempts to hinder it and fragment it. Internet shutdowns and the disconnection of online services and links between countries are an attack on democracy but also on human development objectives that should be shared by all societies regardless of their governance structures. They are also assaults on the global peace that this organization is committed to preserving. The Internet is often one of the few remaining channels that connect peoples and countries. In a world that appears to be on a path towards more divisions between countries, we believe that maintaining connectivity will become essential to bridge these gaps. Despite flaws and biases, the Internet is the closest thing we have to a global agora where all voices can be heard, and all opinions are included. We therefore stress the importance of commitments by all countries to maintain global connectivity and avoid internet shutdowns and fragmentation.
Upholding the value of inclusion throughout this process is the best way to make any Global Digital Compact compliant with the letter of the UN Charter, which calls upon us, peoples of the United Nations, to practice tolerance and live together in peace with one another. It is in that spirit that International IDEA reiterates its full support to this process and the need for Member States to work on bridging the digital divide and make digital technologies accessible to all, with full respect for democratic principles and human rights.
Thank you.