Back to overview
Statement by International IDEA at the First Informal Consultation on the Summit of the Future (United Nations)
Speech delivered: February 14, 2023
Event:
•
Location: New York, USA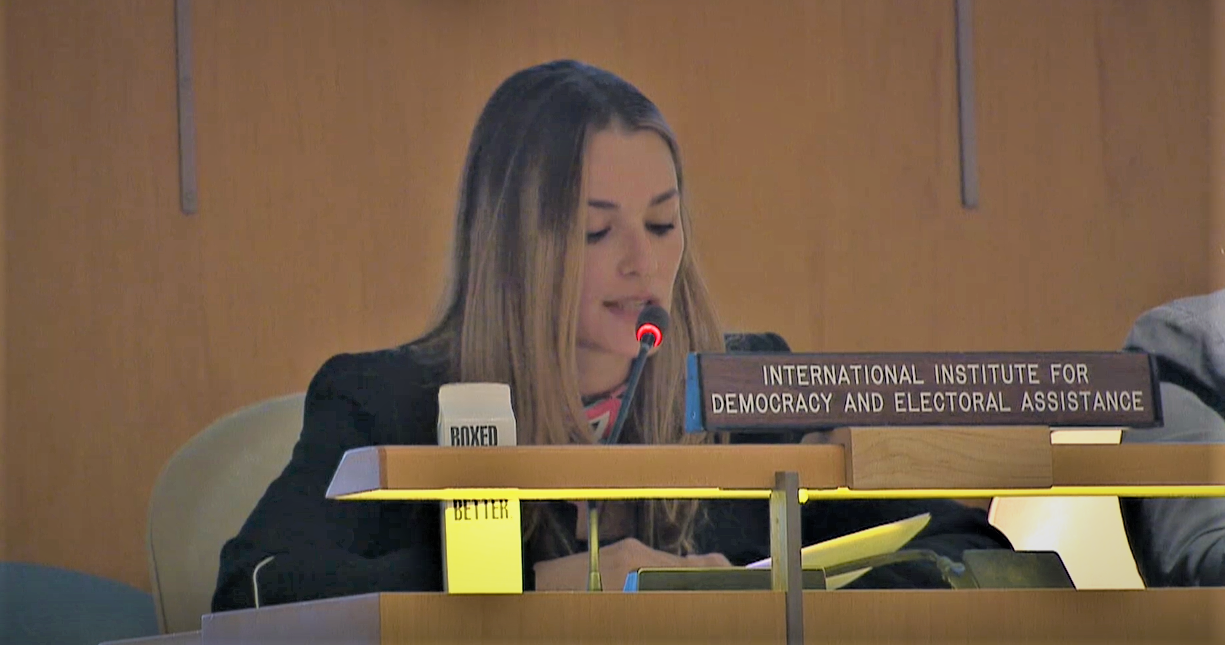 Statement delivered by Ms Amanda Sourek on behalf of International IDEA
'Summit of the Future'
First informal consultation
14 February 2023
New York, United Nations Headquarters
Statement by
Kevin Casas-Zamora
Secretary-General
International Institute for Democracy and Electoral Assistance (International IDEA)
Excellencies,
International IDEA is the only intergovernmental organization with the sole mandate to promote democracy. We have been providing support to country-led political reforms for 28 years in areas such as inclusive constitution-building, electoral processes, parliamentary support, gender equality and inclusion, and democracy assessment, through our flagship initiative on the Global State of Democracy. Our aim is to contribute to reinvigorating multilateralism and enriching UN discussions by engaging on relevant issues through the lens of democracy and its key principles.
We thank the co-facilitators and Member States for the opportunity to provide inputs to this consultative process, as we view the Summit of the Future as an important forum to build a better world for future generations. We would like to bring three points to the attention of this body, based on the key democratic principles of inclusion and participation, accountability and transparency.
First, the Summit of the Future must be an inclusive and participatory process that provides ample opportunity for all stakeholders, including civil society and underrepresented groups, from all over the world to make their voices heard, provide inputs and outline their priorities. The Summit of the Future should be an inclusive platform to discuss how gaps in existing global agendas can most effectively be addressed, it should provide a holistic approach for intergenerational cooperation to tackle future challenges and should include actions that impact equitably both the Global North and Global South. We can only achieve this endeavour by creating a democratic space where all voices are brought into the discussion, particularly those most impacted by the decisions made in this body. Civil society's views and recommendations should be at the centre of this negotiation process.
Second, the Summit of the Future should ensure accountability, in alignment and coordination with different existing UN processes and on-going agendas, and in particular the outcomes of the SDG Summit in September 2023, to ensure their effective impact. The SDG Summit will provide key recommendations for ensuring that future generations face a more sustainable future and as such will provide key inputs to the Summit of the Future. The 2030 Agenda for Sustainable Development, the implementation of Our Common Agenda, and the World Social Summit in 2025 should all be considered complementary of one another and linked to the Summit of the Future in 2024.
Third, International IDEA encourages a transparent and predictable process, urging the co-facilitators to provide a clear timeline for the roadmap of this process, with timely information and guiding questions provided before each consultation to ensure an informed discussion. Consideration should also be given to ensure complementarity, enable synergies and reduce overlap with other parallel consultations.
International IDEA reiterates its support to an inclusive, accountable and transparent process for the Summit of the Future, to provide our children with a more sustainable and democratic future.
I thank you!