Unravelling Parliamentary Instability: Ministerial Durations in Papua New Guinea, 1972–2012
This Discussion Paper examines political instability in Papua New Guinea (PNG) by tracking the country's changes of government and discussing both the constitutional amendments made to prolong the life of governments and the Supreme Court's responses to these amendments. It also discusses the importance of ministerial tenure for government continuity and effective public administration.
To date, discussion and analysis in PNG has focused on changes in government instead of changes in ministers, which has escaped the purview of reforms on parliamentary instability. The degree of ministers' 'continuity', namely the appointment of individual ministers from a collapsed government to the next government under a new PM, is also discussed.
The analysis suggests that parliamentary instability is a complex issue, and that reforms to improve parliamentary instability should be evidence-based and supported by research. The limited durations of ministers in PNG over the 40-year period covered here highlights this factor as a potent challenge to good governance and effective public administration.
Details
Publication date
13 December 2016
Author(s)
Henry Ivarature
Contents
Acknowledgements
Executive summary
1. Introduction
2. Changes of governments in Papua New Guinea
3. Papua New Guinea's national government
4. Amending the Constitution to prolong the life of governments, and Supreme Court responses
5. The 'Integrity law' seeks to keep parties together
6. The concept of ministerial tenure
7. Contextualizing ministerial tenure in Papua New Guinea
8. Ministerial tenure in Papua New Guinea, 1972–2012
Conclusions and policy recommendations
References
About the author
About International IDEA
More International IDEA Discussion Papers
Give us feedback
Do you have a question or feedback about this publication? Leave us your feedback, and we'll get back to you
Send feedback
Unravelling Parliamentary Instability: Ministerial Durations in Papua New Guinea, 1972–2012
4971
0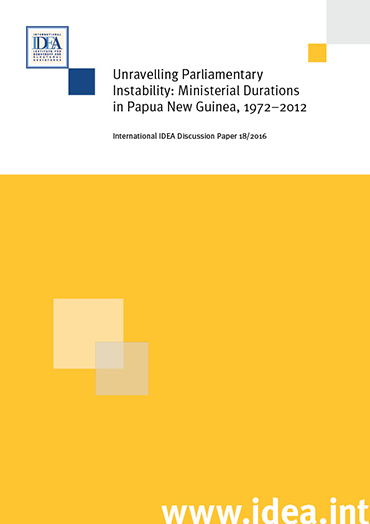 | | |
| --- | --- |
| Total views | 4971 |
| Downloads | 0 |
| Rating | |
Authors
Give us feedback
Do you have a question or feedback about this publication? Leave us your feedback, and we'll get back to you
Send feedback