This publication is available in print and electronic format
ISBN:
978-91-85724-81-9 (Print)
Entre mayo y junio de 2008, el Instituto Internacional para la Democracia y la Asistencia Electoral (International IDEA) organizo un seminario en el que se trato de recuperar para la agenda política peruana algunas de las principales líneas de pensamiento que han alimentado y avivado la política del país durante el siglo XX: el pensamiento social cristiano, los socialismos, los nacionalismos, el pensamiento de Haya de la Torre, el pensamiento de Fernando Belaunde Terry, perspectivas descentralistas, el liberalismo e ideas políticas frente a los retos del siglo XXI.
La presente separata contiene las ponencias que representaron al pensamiento social cristiano en dicha oportunidad: Lourdes Flores Nano, Rolando Ames Cobián, Carlos Blancas Bustamante and Carlos Fernández Sessarego.
Con la publicación de estas reflexiones, aspiramos darles difusión entre los militantes des los partidos así como entre los ciudadanos en general, porque consideramos que el pensamiento político, las ideas, son valores indispensables para la vida democrática de calidad.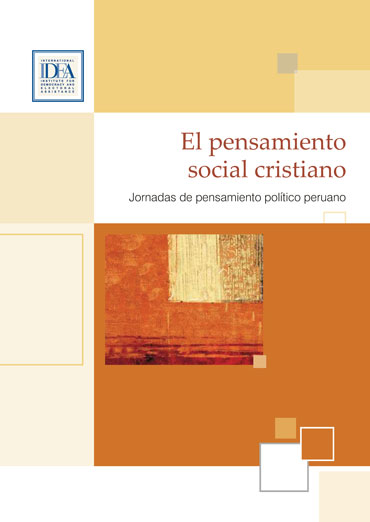 Contents
Prólogo
Rafael Roncagliolo
El socialcristianismo hoy
Lourdes Flores Nano
Pensamiento socialcristiano y política peruana
Rolando Ames Cobián
El socialcristianismo
Carlos Blancas Bustamante
El socialcristianismo
Carlos Fernández Sessarego