Construyendo Visiones de País por medio del Diálogo Social
La transformación económica y social de América Latina experimentada en las últimas tres décadas tiene en su haber un profundo proceso de cambio político institucional, básicamente centrado en la constitución de estructuras democráticas de gobierno y mecanismos institucionales de toma de decisiones.
A la par, la reforma económica ha consolidado importantes modificaciones en la relación crecimiento económico/política económica. Las tres décadas pasadas, de manera general, atestiguan la consolidación de estructuras económicas fuertemente asociadas al mercado internacional, pero que han sido capaces de tutelar de mejor manera o con mejor suceso, los equilibrios macroeconómicos, principalmente el déficit fiscal y la inflación. Los desafíos para un desarrollo futuro sostenible e integral son, sin embargo, amplios y persistentes.
En el marco de estas preocupaciones y consideraciones, IDEA Internacional, CEPAL y FUNPADEM realizaron el Seminario Internacional Visiones de País: Diálogo Social y Fortalecimiento Democrático, en San José, Costa Rica, los días 8 y 9 de diciembre del 2011. Este seminario se abocó a la discusión de los desafíos de planificación que supone la visión prospectiva del desarrollo, explorando desde el rol de los Ministerios y Oficinas de Planificación, hasta la dinámica de los procesos de diálogo social.
Details
Publication date
16 August 2012
Author(s)
Randall Arias, Daniel Zovatto
Co-Publisher(s)
Fundación para la Paz y la Democracia (FUNPADEM) and the Economic Commission for Latin America and the Caribbean (ECLAC)
Contents
PRÓLOGO
PRESENTACIÓN
DISCURSOS INAUGURALES del "Seminario Visiones de País: Diálogo Social y Fortalecimiento Democrático"
PONENCIAS Y RELATORÍAS
Modulo I: ¿Dónde estamos?
Modulo II: ¿Dónde queremos llegar?
Modulo III: Desarrollo y Democracia
Módulo IV: ¿Cómo construir nuevas visiones de país? La sociedad civil, el Sistema político y el Estado
Módulo V: ¿Cómo construir nuevas visiones de país?: Prospectiva político estratégica
DISCURSOS DE CLAUSURA
ANEXOS
Give us feedback
Do you have a question or feedback about this publication? Leave us your feedback, and we'll get back to you
Send feedback
Construyendo Visiones de País por medio del Diálogo Social
3410
1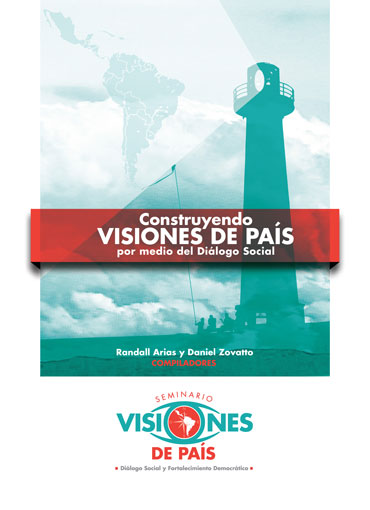 | | |
| --- | --- |
| Total views | 3410 |
| Downloads | 1 |
| Rating | |
Authors
Give us feedback
Do you have a question or feedback about this publication? Leave us your feedback, and we'll get back to you
Send feedback