Is e-voting currently used in any elections with EMB participation?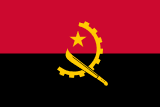 Angola
Answer
No, e-voting is not used currently
Source
Angola, CNE, Organic Law on General Elections - Law No. 36/11 of December 21, 2021, accessed 26 August 2022
Artigo 96.º51 (Pessoalidade, presencialidade e unicidade do voto)
1. O direito de voto é exercido pessoal e presencialmente pelo cidadão eleitor, nos termos da presente lei.
2. Cada eleitor só pode votar uma vez.
3. Não são permitidas a representação ou a delegação do exercício do direito de voto, sem prejuízo do disposto acerca do voto dos cidadãos com deficiência, nos termos definidos pela Comissão Nacional Eleitoral.