39. Are there limits on the amount a political party can spend?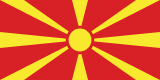 North Macedonia, Republic of
Answer
Yes
Source
Electoral Code (2018), Article 84
Comment
When financing the election campaign, the election campaign participant may spend no more than MKD 110 per registered voter in the electoral district i.e. municipality for which they have submitted list of candidate/s, both in the first and the second round of voting.