Is e-voting currently used in any elections with EMB participation?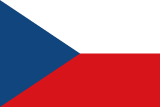 Czechia
Answer
No, e-voting is not used currently
Source
Ministry of Interior, Act No. 247/1995 Coll., On Elections to the Parliament of the Czech Republic and on Amendments to Certain Other Acts, as amended (in Czech language), accessed 6 September 2021
Article 19.
See also: VOLBY, Ministry of Interior