Is e-voting currently used in any elections with EMB participation?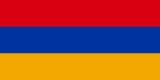 Armenia
Answer
Yes, in politically-binding national elections (elections for public office or direct democracy initiatives)
Source
Comment
Electronic voting is available only for diplomatic and military staff posted abroad as well as representatives of Armenian companies working abroad and their family members. Voters abroad cast their vote using the Internet.