Is e-voting currently used in any elections with EMB participation?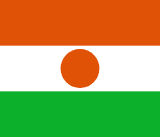 Niger
Answer
No, e-voting is not used currently
Source
Niger, Electoral Code as of March 2020 [in French], accessed 5 January 2021
Art. 69 : Le vote se fait au moyen d'un bulletin unique, à mettre dans l'urne par l'électeur. Tout électeur atteint d'infirmité ou de handicap physique le mettant dans l'impossibilité d'introduire son bulletin dans l'urne est autorisé à se faire assister par un électeur de son choix ou par un membre du bureau de vote.