39. Are there limits on the amount a political party can spend?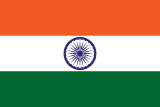 India
Answer
No
Source
"Unlike the limit of election expenditure imposed on a contesting candidate by the Union of India through the ECI, there is no limit on the expenditure that a party can incur during its election campaigns."
Source: Association for Democratic Reforms (ADR) [2012] FAQs on Election Expenditure of Political Parties​.
Comment