Is e-voting currently used in any elections with EMB participation?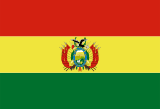 Bolivia
Answer
No, e-voting is not used currently
Source
Bolivia, Law 026 of 30 June 2010, as amended by Law 421 of 7 October 2013, accessed 2 October 2019
ARTÍCULO 139. (PAPELETA DE SUFRAGIO). Es el documento público por medio del cual se ejerce el voto. Su diseño y contenidos son determinados por el Órgano Electoral Plurinacional para cada elección, referendo y revocatoria de mandato.
Tiene las siguientes características:
a) En todos los casos, la Papeleta de Sufragio es única y multicolor y debe contra con las medidas de seguridad que garanticen su autenticidad. El diseño de la papeleta de sufragio, en sus colores, formas y ubicación de las opciones de voto, debe garantizar neutralidad. En el reverso de la Papeleta de Sufragio se consignará la identificación del proceso de votación, el recinto electoral, el número de la Mesa de Sufragio, y un espacio para las firmas y huellas dactilares de las y los jurados electorales y las delegadas o los delegados de organizaciones políticas. […]
Bolivia, Órgano Electoral Plurinacional de Bolivia, Reglamento De Material Electoral, accessed 2 October 2019
Artículo 15. (Papeletas de sufragio)
I. El diseño y contenido de la papeleta de sufragio se definirán para cada proceso electoral, referendo o revocatoria de mandato, incluyendo la segunda vuelta, conforme lo establecido en el artículo 139 de la Ley N° 026 del Régimen Electoral.