Is e-voting currently used in any elections with EMB participation?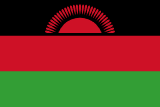 Malawi
Answer
No, e-voting is not used currently
Source
Malawi, Parliamentary and Presidential Elections Act (1993), accessed 20 May 2019
67. (1) The Commission shall establish polling stations throughout the Republic and there shall be at least one polling station for every registration centre established under section21.
(2) All polling stations shall be established and located in public buildings, including schools, community or social halls, administrative offices of the Government or local authorities, but not-
(a) at a military unit or police station;
(b) in a residential building;
(c) in a building occupied by a political party;
(d) in premises where alcoholic drinks are ordinarily sold or consumed;
(e) places of worship or dedicated to worship; and
(f) hospitals or other health centres.
(3) The Commission shall, before the polling day, publish in the Gazette and in more than one issue of a newspaper in general circulation in Malawi and by radio announcements and by any other appropriate means the names of all places throughout Malawi at which polling stations have been established .