Is e-voting currently used in any elections with EMB participation?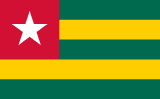 Togo
Answer
No, e-voting is not used currently
Source
CENI, Comment voter? (A guide on how to vote), accessed 22 December 2018
Le processus de vote se déroule comme suit:
- A son entrée dans le bureau de vote, chaque électeur, porteur de sa carte d'électeur, fait constater son identité et son inscription sur la liste électorale.
- Ensuite, il prend lui-même le bulletin unique de vote, se rend dans l'isoloir, marque son choix et plie le bulletin.
- Il fait constater par le président du bureau de vote, sans que celui-ci ne touche le pli, qu'il n'est porteur que d'un seul bulletin de vote.
- L'électeur introduit lui-même le bulletin dans l'urne et plonge son index dans un flacon contenant l'encre indélébile.