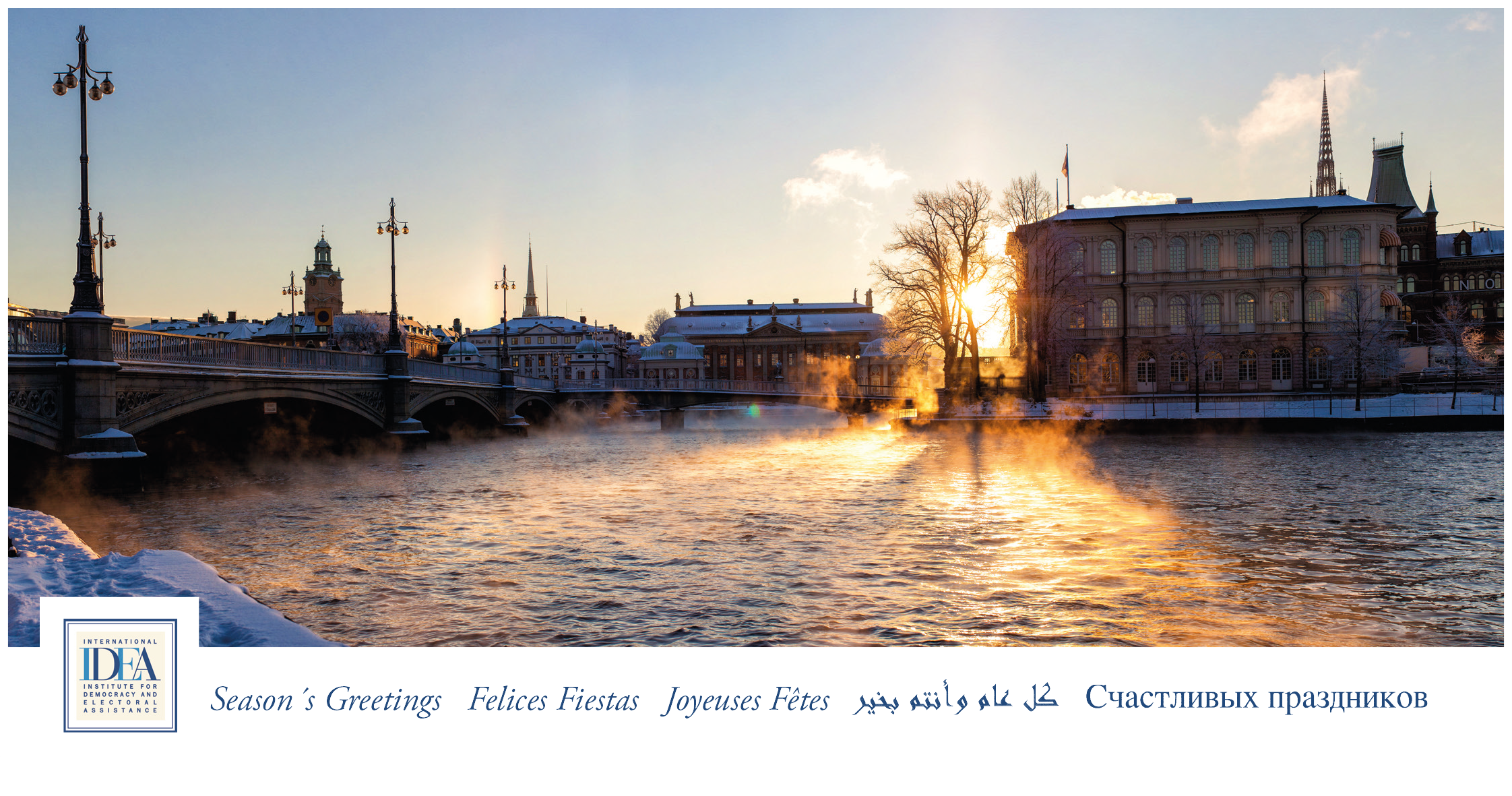 Photo: Ulf Bodin | Flickr
Opportunities and Challenges to Democracy in 2016
At the end of 2016, the challenges in the democracy landscape are numerous. However, let us also be mindful of the many opportunities on the horizon. For example, progress in democracy-building continues in countries undergoing democratic transitions, including Myanmar and Tunisia. Peaceful democratic transitions have taken place in different countries on the African continent. The award of the Nobel Peace Prize to Colombia's President Juan Manuel Santos, provides international recognition to the efforts made in advancing the Colombian peace process and gives hope for long-term peace in the country. Furthermore, we will seek to highlight the resilience of democracy over time and democracy's inherent qualities of adaptation, recovery, flexibility, and innovation, as key messages in International IDEA's new signature publication on the Global State of Democracy that will be launched on International Democracy Day on 15 September 2017.
However, there is no denying that the challenges to democracy are multiple and serious. These include the intensification of conflicts (e.g. in Syria and Iraq); setbacks on the rocky road to peace in countries such as Colombia and the Democratic Republic of Congo; the increasing radicalization and spread of terrorism worldwide; the crisis of representation - especially in the Western world - resulting in advances in populism and increasing political polarization; democratic setbacks in countries such as Venezuela and Turkey; the shrinking space for civil society and restrictions on freedom of expression in many parts of the world (e.g. Ethiopia, Bangladesh, Egypt, Turkey); and the challenges linked to climate change deterioration.
While International IDEA cannot on its own address all these challenges, we have a key role to play in supporting and strengthening democratic processes worldwide, in partnership with governments, civil society and non-governmental organizations, political parties, other multilateral organizations and bilateral donors. Only strong and stable democracies will ultimately build the necessary basis to effectively tackle the numerous challenges facing the world in the years to come.
International IDEA's main achievements in 2016
I would like to take this opportunity to thank International IDEA staff, our board of advisers and our partners for the relentless efforts made during 2016 to contribute to addressing some of these challenges, within the scope of our mandate, our strategic framework, and our financial and human resource capabilities. I would also like to thank our member states for their continued trust in and support to International IDEA.
2016 has been a challenging year, not only for democracy, but also for International IDEA as an institution, due to funding cuts in our core financial contributions as a result of the migration crisis. As a result, we have had to readjust and scale down our programmes, while making increasing efforts to reach out to other external donors for project financing. In 2016, we have raised a total of 12.9 million euros in funds for specific projects to help finance our activities at the global, regional and country-level, in addition to the core contributions received from contributing Member States (10.8 million euros), for which we are very grateful. I am proud of what International IDEA has continued to achieve despite the constraints and I would like to highlight just a few of our main institutional and programmatic achievements in 2016.
Brazil and Benin new Member States of International IDEA
Two significant milestones for International IDEA in 2016 have been the expansion of our membership from 28 countries to 30, with the accession of Brazil in April and Benin in December as new Member States.
The accession of Brazil is significant, being the world's fourth largest democracy, the fifth largest country, and within the block of the ten largest economies in the world. Brazil becomes International IDEA's eighth Latin American and Caribbean member state. I view the membership of Brazil as mutually beneficial: International IDEA acknowledges the gains made by Brazil in its 30-year long democratic consolidation process, despite the numerous challenges the country is currently facing and hopes that the lessons learned from their democratic experience can be shared with other International IDEA Member States and programme countries currently undergoing similar processes. International IDEA aims to continue to support Brazil in its democratic deepening process, including its upcoming electoral reform process and in strengthening its capacity to enhance accountability and transparency of its political processes.
International IDEA also warmly welcomes the membership of Benin, being one of the more stable Francophone countries in Africa, whose democratic progress can provide useful lessons to other countries in the region and beyond. International IDEA also views Benin's membership as an opportunity to continue to strengthen our presence and relevance in West Africa. Membership may also serve as an additional motivation for Benin to further consolidate democracy and support its international engagement for democracy, for example in the context of the African Union. Benin's membership will further improve the regional balance in IDEA's membership, and in particular as the third West African Member State (after Cape Verde and Ghana) and a first step towards expanding IDEA's impact and legitimacy in the Francophone world. We look forward to continue to deepen our cooperation process, particularly supporting the Government of Benin and its Constitutional Court in its constitutional review process.
Chairship of Mongolia
I would also like to take this opportunity to thank Mongolia for its excellent Chairship of International IDEA in 2016. The partnership between Mongolia and International IDEA has been strengthened during this year, thanks to join initiatives such as the Annual Democracy Forum held in Ulaanbaatar on 25–26 August. The Forum brought together actors of democratic transitions in Asia and the Pacific to discuss lessons for future democratization processes in the region and beyond. IDEA and the Government of Mongolia also organized a joint trip to Bhutan, during which lessons from the Mongolian transition experience were shared with the Government, civil society representatives and the public. International IDEA and the Government of Mongolia, together with the Community of Democracies, and the OSCE Office for Democratic Institutions and Human Rights, will also jointly launch a regional Electoral Observation Training Center, to be based in Mongolia as of 2017. The Center aims at providing training to strengthen the capacity of Asian electoral observers.
Achievements at the Global Level
At the global programmatic level, a major milestone for International IDEA has been the initiation of a significant new project: a signature publication on the Global State of Democracy, which will provide, for the first time by International IDEA, an overview of democratic trends around the world and across regions. The publication will build on our existing and new research across our Key Impact Areas (KIAs), in the areas of electoral processes, constitution-building, political parties and representation, democracy and development, money in politics, and democracy and migration. The signature publication on the Global State of Democracy will be launched on Democracy Day on 15 September 2017.
Other global achievements include among many others, the launch of the Digital Parties Portal, which offers a repository of Information and Communications Technology and good practice tools that political parties may use to fundraise, reach constituencies, and manage the conduct of internal and external voting. In July, we launched the online Master in Electoral Policy & Administration (MEPA), in collaboration with UNITAR and Scuola Sant Anna. MEPA is an online Master Programme providing comprehensive advanced learning on electoral processes for current and aspiring election professionals. We also published four studies on Illicit Finance in elections, political parties, public service delivery and local democracy, which include case studies from various regions of the world on how illicit finance can infiltrate these processes and measures that can be taken to counteract the phenomenon. We also published The Constitution Assessment for Women's Equality, which helps users analyse a constitution or draft constitution from the perspective of the substantive equality of women. And in December, International IDEA co-organized a global conference on "Global Constitutional Discourse and Transnational Constitutional Activity" with the Venice Commission and the International Association of Constitutional Law (IACL).
Achievements at the regional and country levels
International IDEA has four regional programmes (Africa and West Asia; Asia and the Pacific; Latin American and Caribbean; and Wider Europe), which combined with our presence in Stockholm, Brussels, The Hague and New York enables us to have a global reach and footprint, increasing our credibility and legitimacy as an institution. These are some of the main highlights from our regional programmes:
Latin America and Caribbean
At the regional level, a major highlight in October 2016 was the inauguration of International IDEA's new regional office for Latin America and the Caribbean, in Santiago de Chile (financed by a generous contribution from the Government of Chile). I attended the official inauguration ceremony in Santiago, where the Chilean Government warmly welcomed me for an official visit andduring which I was received by President Michelle Bachelet. In Santiago, I also participated in the launch of the Spanish version of International IDEA's book "Democratic Transitions. Conversations with World Leaders", in the presence of over hundred participants from both the public and non-governmental sector in Chile. The book launch included a panel discussion with Sergio Bitar, former Chilean Minister of Education and Public Works and Board of Advisor member of International IDEA; Ricardo Lagos, former President of Chile, and one of the democratic transition leaders interviewed in the book; Mariana Aylwin, daughter of late President Patricio Aylwin (the first democratically elected President after the Chilean transition to democracy), and former Congresswoman and Minister of Education; and Senator Juan Antonio Coloma, Chilean senator of the opposition party Unión Democráta Independiente (UDI). The panel discussion focused on the lessons learned from the Chilean transition to democracy.
Within the context of the same mission, I also had the opportunity to travel to Venezuela, for the signing of a Memorandum of Understanding with the Centre for Political Studies at the Catholic University Andres Bello (Centro de Estudios Políticos de la Universidad Católica Andrés Bello – CEP-UCAB). The MoU lays down the foundations for cooperation in areas of common interest for both institutions, including research, teaching, dissemination, outreach, technical assistance, and support for sustainable democracy by means of academic activities and in accordance with the respective competencies and objectives of each institution.
Asia and the Pacific
In Asia Pacific, a major highlight was the extension of the Memorandum of Understanding between International IDEA and the Myanmar Union Election Commission (UEC). The UEC and International IDEA have been strategic partners since 2014 under the flagship program Support to Electoral Processes and Democracy in Myanmar (STEP) financed by the European Union. The STEP project supports inclusive, peaceful and credible electoral processes by developing capacities of all electoral stakeholders in Myanmar (the election commission, civil society organizations, political parties and the media) in Myanmar's transition to democracy. The agreement extends the collaborative partnership between International IDEA and the UEC until 2021. In September, I had the honor to receive the Honorable Chairman of the Myanmar UEC U Hla Thein, at International IDEA's Headquarters in Stockholm to sign the extension to the MoU. The Asia Pacific Programme also shared the "Delhi Declaration" recommendations (2015) regarding political and campaign finance in the region to Nepal, Bangladesh and Sri Lanka. These efforts will continue in 2017.
Africa and West Asia
International IDEA's reinvigorated and restructured Africa and West Asia programme is now in its second year of implementation, during which it has continued its programmatic and fundraising expansion, undertaking some 110 programme activities and initiatives. In 2016, we continued strengthening our relationship with the African Union, and provided key technical assistance, advisory services, and capacity enhancement to various institutions and actors around the region in the areas of electoral processes, constitution-building, democracy and development, money in politics, and the political participation of women and youth. A host country agreement to govern IDEA's presence in Tunisia was also passed by parliament. A project office was opened in Nairobi, Kenya, to support the work of the Independent Elections and Boundaries Commission and the Registrar of Political Parties. At the same time, the Institute's presence in Egypt was wound down after six years of work aimed at accompanying post-Mubarak reform efforts. We are taking all the measures needed to assist the staff who were based in Egypt with training and career coaching for a good professional transition.
Wider Europe
An important milestone for International IDEA was the launch of a new regional programme for Wider Europe, which was formally approved by the Council of Member States in June and started operating from The Hague in October. While the initial efforts focused on scoping, and defining a niche for International IDEA in the region, there has also been an expanding focus on activity implementation. In February, IDEA organized a conference on Money in Politics in Central and Eastern Europe, with partners including the Council of Europe and OSCE. Some of its most popular publications were translated into Russian and Ukrainian. In 2017, International IDEA's Wider Europe Programme will continue its expansion and consolidation. The main focus in 2017 will be on Ukraine, Moldova and Georgia, by making available comparative knowledge on innovative methods to reconnect citizens and political parties, while continuing to provide support in developing more transparent and accountable political campaign financial reporting systems in the region.
Institutional achievements
EU Pillar Audit & financial reporting
A key milestone for International IDEA in 2016 was the completion of the European Union Pillar audit of International IDEA's financial, reporting, and procurement systems. The audit approval will enable International IDEA to use its own internal systems and policies for managing EU funding and may therefore open the door for additional EU project funding. In 2016, International IDEA also reported under International Public Sector Accounting Standards (IPSAS) for the first time.
Communications
I am proud to say that we have made significant advances in increasing our visibility and outreach in 2016. We launched International IDEA's new and revamped website in October, which will help us to further increase our visibility and impact internationally. We have also redesigned our publications strategy, with the introduction of a more stringent process of quality control, and a move away from hard copy printing to a greater emphasis on communications products adapted to the digitalized world of today. In 2016, we published a total of 130 publications and knowledge products in our various fields of expertise. We have also made strides in increasing our social media presence with 28,000 Facebook likes–up from 20,000 in December 2015 and 12,000 Twitter followers–up from 9,000 in December 2015.
Outreach to Member States
We have continued to make strides in increasing International IDEA's outreach and visibility, both from our Headquarters in Stockholm, in our Member States, in the international media, and in the regions. As part of these outreach efforts, I participated in SIDA's Development Forum in Stockholm in September together with–among others-the Executive Director of the Dag Hammarskjöld Foundation, discussing the role of development assistance in conflict situations and for building peace. In September, we organized a panel discussion on the "Crisis of Representation" in Stockholm together with the Secretary-General of the Olof Palme Center Jens Orback and with three of International IDEA's board members: Njeri Kabeberi, Executive Director of Greenpeace Africa; Surin Pitsuwan, Former Foreign Minister of Thailand and former Secretary General of ASEAN; and Bassma Kadmani, professor of International Relations at Paris University and Executive Director of the Arab Reform Initiative. On Democracy Day on 15 September, we held a full-day programme on Direct Democracy at the Europe House in Stockholm, in partnership with the Swiss Embassy and the Democracy School. And in November, I met with Swedish State Secretary on international development cooperation Ulrika Modéer together with the seven Swedish political party organizations.
As part of our efforts to strengthen our outreach to Member States, I also travelled to The Hague in November. There, I met with Minister Bert Koenders, the Dutch Minister of Foreign Affairs, to discuss how to further deepen the cooperation between the Netherlands and International IDEA. In the same vein, I also met with a number of Dutch MFA officials and Dutch parliamentarians from all major political parties. The meetings provided an opportunity to reconfirm the mutual support between the Netherlands and International IDEA and deepen the engagement between both parts.
I have also made a number of high-level visits to several other International IDEA Member States in 2016 in an effort to deepen our partnerships. This includes among others, Belgium, Brazil, Chile, Costa Rica, Canada, Germany, Indonesia, Mongolia and Indonesia. I have also maintained an active interaction with other multilateral organizations, including with European Union Commissioners and EU institutions, the United Nations, the African Union and many others. I have also had the honour to receive a number of high-level delegations to our headquarters in Stockholm, including ambassadors, Secretaries of States, Ministers and representatives of Electoral Commissions of both member and non-member states.
Secondment Programme
An important announcement in 2016 concerned the launch of an International IDEA secondment programme, which welcomes Member States' participation for specific employment opportunities within IDEA, mainly at the regional and country level. Information on specific positions may be found on our website.
External Evaluation and Strategy Development
The year 2017 marks the last year of International IDEA's current six-year strategy. Therefore, the main focus in the coming year will be on taking stock of the lessons learned from the current strategy, and wrapping up existing programmatic and institutional commitments, while continuing a process of internal reform, that will help build the basis for a stronger, more visible and more relevant International IDEA in the new strategy period, 2018–23. In September, we therefore initiated an external evaluation of the implementation of International IDEA's 2018-2023 current (2012-2017) strategy. The evaluation is being conducted by the consultancy firm Tana Copenhagen and focuses on the implementation of International IDEA's Key Impact Areas at global, regional and country levels. The evaluation will provide an important input for the development of International IDEA's new strategy for the period 2018-2023.
In 2017, we will continue undertaking a series of consultative and evaluative exercises that will help shape the new institutional Strategy. I look forward to steering this process in close collaboration with our Member States and our distinguished Board of Advisers. International IDEA's new six-year strategy will address the evolving democratic challenges and opportunities in a volatile world, ensuring that International IDEA can continue to fulfill its founding mandate to promote and advance sustainable democracy worldwide.