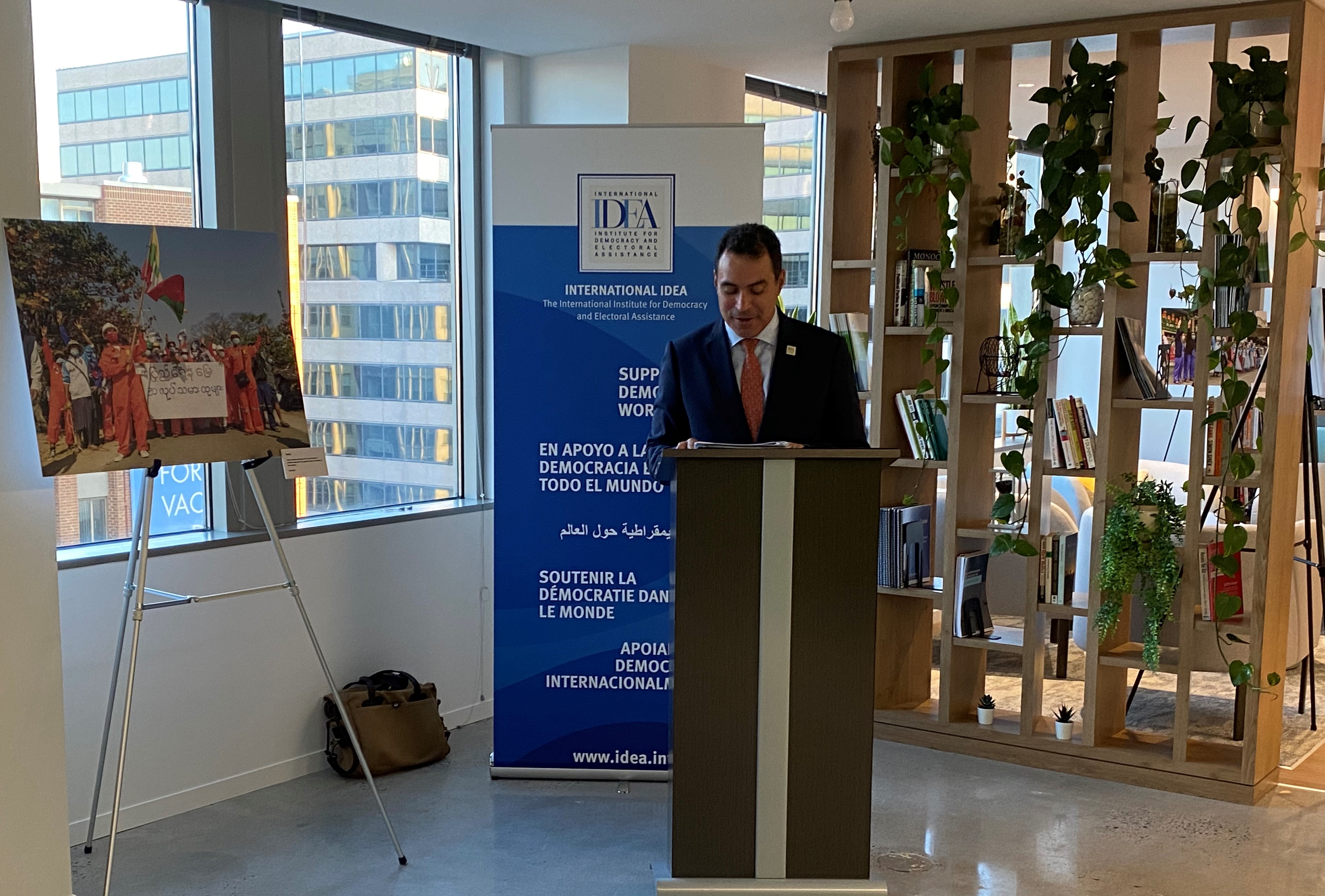 Good evening and thank you all for joining us here tonight.
I'm Kevin Casas-Zamora, the Secretary-General of International IDEA. I am very pleased to welcome you to the official opening of IDEA's Washington Office, at the Open Government Hub.
I'm delighted to see so many Member States representatives, partners, colleagues and friends gathered here today. I see here old friends of IDEA as well as new friends. I'd like to think that this reflects the fact that we're becoming part of the Washington DC community to support democracy, which I was a part of for nearly a decade. Opening this office is an important milestone for IDEA. It also means a lot to me personally.
In the next few minutes, I'd like to do three things. First, I'll tell you a bit about IDEA, where it comes from and where it's going. Second, I'll share the reasons why I think being in DC is essential for us and what we intend to achieve by having a presence here. And third, on this International Democracy Day, I'd like to reflect for a moment on the meaning of the work we do to support democracy.
Since not all of you know IDEA well, let me start by saying a few things about the institute. IDEA is an intergovernmental organization with 34 Member States from all regions, which share a commitment to advance democracy. We have a very diverse membership of large and small democracies, ranging from Brazil, India and Indonesia to Estonia or my own home country, Costa Rica; from industrialized democracies, like Sweden or Germany, to developing democracies, like Namibia, Mongolia or Peru. This diversity is also present in the leadership of the organization – the current chair of our Council is Canada, while our vice-chairs are Cabo Verde and Finland.
In the 27 years since its foundation, International IDEA has established itself as a policy research center on electoral processes, constitution building, political participation, gender representation, campaign finance reform and, over the past few years, the measuring and monitoring of the performance of democratic systems.
We bridge thinking and doing. We produce comparative, policy-friendly knowledge, and then we use it to help develop democratic capacity through our programming on the ground.
Through our 19 offices around the world, we're active in over 60 countries, working with a variety of partners and in different modalities.
In the coming months, we will launch a new institutional strategy to guide our work in an era of geopolitical transformation and new challenges for democracy. Alongside the activities that have long been the bread and butter for IDEA, the new strategy will give increased attention to the need for advocacy in support of democracy at the international level, to our efforts to convene communities of policy and practice, and to the need to better connect our work to the Sustainable Development Goals, including through our role as UN permanent observers. The new strategy will also reflect our interest in expanding our work to include two crucial agendas for the future, namely the complex interlinkages between climate change and democracy, and between digitalization and democracy. By growing our ability to address these defining issues of our time in the context of democracy, International IDEA will become, I hope, even more fit to advance its mission.
Why open an office in Washington DC precisely now? The short answer is that this city is, once again, a key hub in the global efforts to protect and reinvigorate democracy. Any organization that aspires to be an important node in those efforts can ill afford not to be part of this community. This city shapes global debates and agendas on democracy. We want to be part of that. We need to be part of that.
We want to be here to strengthen our links to the many organizations headquartered in this city that work to advance democracy around the world. The organizations that are present here tonight bring unparalleled networks, knowledge and experience to this collective endeavor. We are here to learn from you, and to work with you.
In the past couple of years, we have visibly increased our contacts with U.S.-based democracy organizations and with the U.S. government. This probably started out with the Call to Defend Democracy, the public letter that we published in 2020 in the early days of the pandemic, an effort that we coordinated with NED, and which ended up gathering the support of nearly 80 pro-democracy and Human Rights organizations and over 500 global leaders.
This experience was the seed of the work that we have done to support the Summit for Democracy and the Year of Action, including by assembling the Global Democracy Coalition in the run up to the Summit. Today, the Coalition includes more than 80 organizations from all regions working together and offering a tangible example of the collective action that the democratic cause sorely needs if it is to thrive.
We want to be here because we hope to be a bridge. First, a transatlantic bridge to connect the world's two largest communities to support democracy, those that have the strongest financial muscle and capacity to scale up global efforts, but not always the impulse to coordinate their actions. While IDEA's membership and activities are global, it has strong European foundations. Our headquarters are in Stockholm. We have a long tradition of collaboration with European states, both individually and collectively through the European Union. We can bring these two vibrant democracy support ecosystems closer. Even more importantly, on account of our diverse membership, we can also be a bridge between the Global North and the Global South. This is crucial, because the struggle for democracy needs more than the West. It also needs the Rest.
We want to be here to contribute to debates on democracy in the United States.
IDEA´s work is comparative. Our job is to tease out the lessons learned in the process of building democratic institutions all over the world, disseminate those lessons and apply them on the ground.
I'm a comparativist by impulse and by training. I know the value that comparative knowledge can bring to policy reform efforts. Yet, in the decade I lived in DC I often noticed how little the rest of the world features in political and policy debates here, to the loss of all parties involved. We want to help to change that, in small but visible ways. One of our Washington Office's contributions will be to make IDEA's comparative work more accessible to U.S. policy and research discussions.
We had a small success in this regard at the end of last year. Our Global State of Democracy Report, published at the end of 2021 measured the deterioration of key aspects of democracy in this country and placed the U.S. recent experience in the context of the phenomenon of democratic backsliding that afflicts many countries. The use of the term "backsliding democracy" to describe the United States attracted considerable attention from media outlets, in a way that took me by surprise. Remarkably, it also attracted the attention of President Joe Biden, who quoted this finding from our report in his opening remarks at the Summit for Democracy. I must say that it is a measure of the man, and a measure of this democracy, that the President chose to highlight a piece of information critical of his own country. That, my friends, is democracy's capacity for introspection and self-correction in action. Having those traits goes a long way. Exercising those traits by comparing yourself to the rest of the world and learning from it goes an even longer way.
So, to all of you, I say this: we're in DC to learn skills, bridge gaps and expand lenses. Above all, we're here to roll up our sleeves and partner with you to advance democracy. If you're ready to step up to the plate, International IDEA is ready to play ball.
This is why we are in Washington. Here our work will be led by Dr Annika Silva-Leander, whom many of you have already met. Annika has a wealth of experience, including as a former lead author of IDEA's Global State of Democracy report and head of our Democracy Assessment program. Annika will be supported by Amanda Sourek, in New York, and Elisenda Balleste-Buxo, in Stockholm. Our efforts in North America are in very capable hands.
A moment ago, I said that IDEA wants to play ball. Well, my friends, we need to. At this critical juncture for democracy, we must stand and work closely, with a spirit of generosity and a sense of history. This brings me to my final reflection about the meaning of our work.
The past few months have been dire for the world and for democracy. I have little doubt that Russia's invasion of Ukraine is a turning point in the 21st Century and that the grave consequences of this crisis will be with us for a long time. If there is a silver lining in this tragedy is that it has provided us with a moment of clarity. As in the 1930s, the dangers of authoritarianism, not just for democracy, but also for global peace, are right in front of us. By invading a democracy, Putin has rendered evident what had been simmering for a while, namely that the key cleavage that divides the world today is, arguably, the line that separates democracies from authoritarian systems of different varieties.
As such, a gauntlet has been thrown at us. Over the past few months, we've learned that there are governments willing to resort to an unjust international war to crush democratic values. Not just that -- through Putin's joint statement with Xi Jinping, a remarkable document released just before the invasion, we know that the authoritarian leaders of the world are determined to redefine what democracy and human rights and self-determination mean, and to say that they mean whatever naked power wants.
It's time to pick up the gauntlet and focus our minds. We are in for a generational struggle to protect the meaning of those words and the values they embody so as to bequeath them to the next generation.
History has entrusted us with a responsibility and a privilege. The tragedy in Ukraine has bestowed the work that all of us do with a relevance, a poignancy, and a historical significance that were slightly less obvious one year ago. Our work has now become an urgent global mission, which we should perform with a great sense of responsibility. This will be our tribute to the people in Ukraine, who are putting their lives on the line to defend the values that the countries and organizations represented here claim to be committed to.
And we must insist that this is not, cannot be, a fight between "the West" and Russia or China or other likeminded countries. This is a struggle that should summon all democrats wherever we may come from.
You see, at IDEA we have colleagues from Myanmar. They left their country in the wake of the military coup and are in Sweden as refugees, working alongside us. I've learned a lot from them. In the terminal refusal of the people of Myanmar to be cowed by their authoritarian rulers we have seen the ostensible proof that democracy is not a Western construct, but a universal aspiration. I never fail to notice that the voices that say that liberal democracy is no more than a Western concept are always those of highly repressive governments. We never hear dissidents, or prisoners of conscience, or harassed journalists, who are as part of the same culture as the government that persecutes them, resorting to the same brand of cheap relativism. The values that move the people in Myanmar to resist military rule; the values that people are getting shelled on for in Ukraine; the values the impel millions of citizens across Africa and Latin America to stand in line for hours to cast their votes, are ultimately the same ones that sustain democratic systems everywhere. They are the beliefs that human beings are endowed with a sacred right to elect authorities in free and fair elections, to speak up and dissent, to share information with others and organize in civic groups free from coercion, among many others. Those values are universal because they protect the dignity of human beings and their ability to choose the life they deem valuable better than any other political arrangement.
Despite the doom and gloom, we cannot forget that the arguments for democracy continue to be overwhelming. What is in crisis today is not the case for democracy, but rather the idea that the spread of democracy is inevitable. The truth is that there is nothing inevitable about the advance of democracy. The notion that all human beings are endowed with equal value and with the same right to participate in collective decisions; the notion that political power ought to be limited if it is to remain legitimate; the idea that the best protection for human dignity is not tribal bonds, but the existence of a body of rights, protected by law, in the face of which we are all equal; all of those are very new ideas that in many respects swim against powerful tides in human nature. Inequality, the exercise of raw power, and allegiance to tribe and to those who are and look exactly like us, are the historical norm. The spread of democracy is, in fact, an enormous victory against dark forces in our nature. Now all those ancestral forces are rearing their head again in different places. The preservation of democracy demands a lot from us every day, lest we let the jungle grow back. And it's growing back.
This is the twilight struggle we have in our hands. We need to muster the courage and build the global coalitions to prevail, knowing full well that while the values we defend are eternal, our victories are always transitory. Now, more than ever, we must make the case for democracy, with conviction and urgency. It is a case that has not lost one ounce of its power to inspire and give hope and light in this season of darkness.
Thank you and happy International Democracy Day!