Back to overview
Sri Lanka's President and Prime Minister to Resign Amidst Protests: Democracy in Action and Challenges Ahead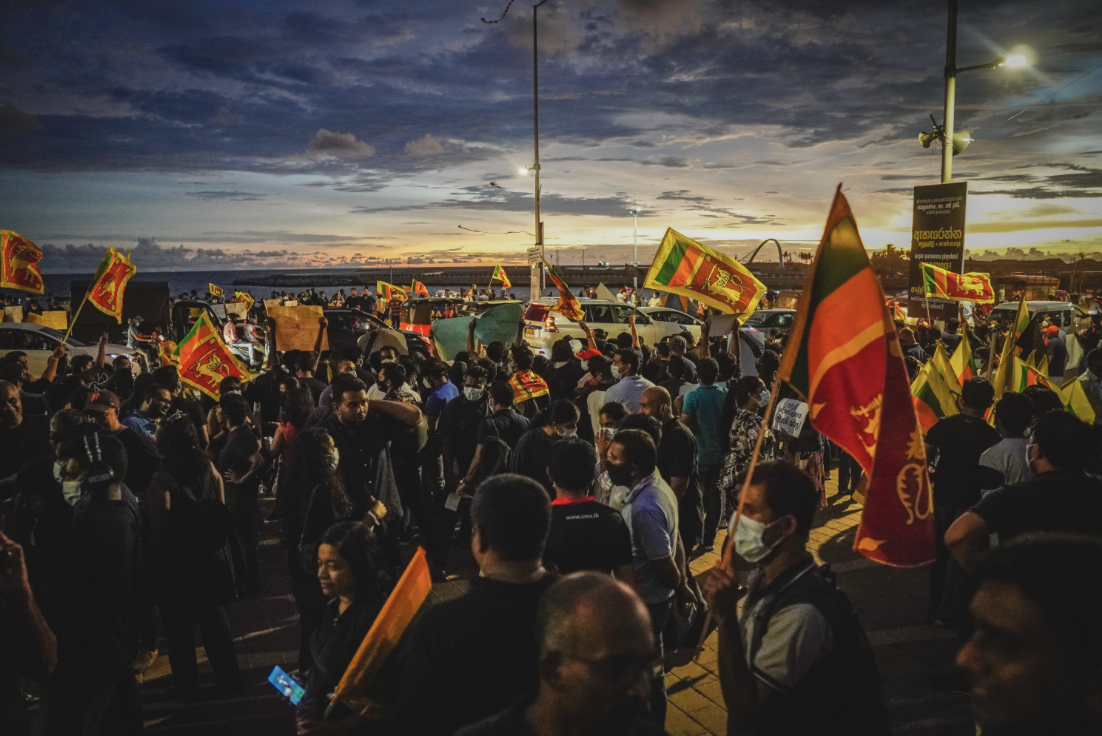 Hours before his expected resignation, Sri Lankan beleaguered President Gotabaya Rajapaksa fled the country on a military jet on Wednesday,13 July 2022. Protesters marked the moment with jubilation, hopeful that this marks the end of decades of rule by the Rajapaksa family.   
The president's flight comes after months of public protests demanding that the leadership step down for its perceived failure to address the country's most severe post-independence debt crisis.   
The world is witnessing democracy in action. For over 100 days, tens of thousands of Sri Lankans from all walks of life have marched and protested peacefully, expressing genuine dissent while exercising their democratic right to peaceful assembly. In a tipping point over the weekend, protesters stormed President Gotabaya Rajapaksa's residence. Pictures of people lounging in the opulent surroundings went viral, standing in stark contrast to the dire situation outside, where fuel is being rationed and food prices are soaring. Prime Minister Ranil Wickremesinghe's residence was also set alight, and he has offered to step down.     
In a recent development, though, Rajapaksa appointed Wickremesinghe as Acting President and no resignations have occurred. Protests have moved to the Prime Minister's office. This adds fuel to the impression that Wickremesinghe, a long-time opposition politician and former prime minister, is little more than a "lifeline to the Rajapaksas."  
These leaders' resignations, if they occur, will be an important milestone in what is Asia's oldest democracy according to universal suffrage, spearheaded by a massive show of public anger.  
What Next?  
Regardless of whether these leaders step down, significant challenges lie ahead. The legislature's lack of confidence in leadership, within both the opposition and ruling parties, remains a key challenge. Even after the President's removal, many ruling party members tainted with corruption scandals who supported the Rajapaksa family will remain. Protesters are therefore calling for an interim government and constitutional reform, which will be vital to gain confidence in a new  government. An all-party alternative is feared to be a way for the Rajapaksa's to remain in power behind the scenes.   
Ultimately, Sri Lankans wish to see legal and institutional changes, including reforms that restore good governance and end impunity for high-level corruption linked to the crisis. Addressing the underlying issues—such as the strengthening of structural checks and balances—will not only address the country's economic woes but also provide an opportunity to achieve real democratic legitimacy.  
Indeed, fundamental reforms and transparency throughout the process will be required, not just by the public, but by the International Monetary Fund and international creditors. Among the priorities upon forming a stable government will be to strengthen Sri Lanka's judiciary (in tackling corruption) to make it impartial to political interference. As noted by Chalana Perera, a Sri Lankan advisor to tourism businesses, "This is where Sri Lanka has yet to prove that we are geared for recovery—our laws must be upheld to hold those responsible for the crisis accountable, otherwise we risk a repeat of gross negligence in the future." It could also be a chance for Sri Lanka to reckon with its past and to build a new and more inclusive national identity; the much-touted unity that has marked the protests could ring hollow without a sincere reflection of what it means to be Sri Lankan. There is, however, room to be "cautiously optimistic," as Chalana suggests that "the peoples' uprising and its strength across social strata, has cautioned those who come into power next. Sri Lankans expect competent and selfless leaders to navigate the island out of troubled waters with integrity and accountability. We need sustainable, long-term solutions to propel Sri Lanka forward."
Disclaimer: Opinions expressed in this commentary are those of the author and do not necessarily represent the institutional position of International IDEA, its Board of Advisers or its Council of Member States.