Electoral system for national legislature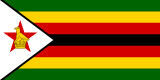 Zimbabwe
Answer
Parallel
Source
Constitution of Zimbabwe (2013 Amendment)
Article 124. Composition of House of Assembly
124.1 The National Assembly consists of—
a) two hundred and ten members elected by secret ballot from the two hundred and ten constituencies into which Zimbabwe is divided; and
b) for the life of the first two Parliaments after the effective date, an additional sixty women members, six from each of the provinces into which Zimbabwe is divided, elected through a system of proportional representation based on the votes cast for candidates representing political parties in a general election for constituency members in the provinces.
Electoral Act as amended by SI 85/2013 of 12th June 2013
Article 45C. Allocation of party-list seats and disqualification of votes for purposes of party-list elections
45.4 Each electoral province shall be allocated six seats in the Senate and six seats reserved for women in the National Assembly, and each electoral province that is a non-metropolitan province shall be allocated ten seats in the provincial council for that electoral province.
Article 66. Determination and declaration of result of poll
66.1 Subject to subsection (2), after verifying the ward returns in terms of section 65A and recording on a constituency return the total number of votes received by each constituency candidate, the constituency elections officer shall forthwith declare the constituency candidate who has received-
(a) where there are two such candidates, the greater number of votes;
(b) where there are more than two such candidates, the greatest number of votes;
to be duly elected as a member of the National Assembly with effect from the day of the declaration.
Comment
In June 2013, president Robert Mugabe used a presidential decree to make changes to the country's electoral law, bypassing parliament to enact a more proportional system of representation designed to provide more equitable representation of women.
Under the new system, the majority of seats in the National Assembly are still elected through first-past-the-post. However, each vote for one of these constituency candidates also counts as a party-list vote for the election of 60 of Zimbabwe's 81 senators, the 10 member Provincial Councils in each of Zimbabwe's provinces and for the 60 seats in the House of Assembly that are reserved for women.
For more information, read the Eighth Schedule Section in the 2013 Electoral Act which gives a comprehensive rundown on the allocation of party lists seats through proportional representation.
Source: Zimbabwe: Fairer Election Methods, but Trouble at the Polls