Is e-voting currently used in any elections with EMB participation?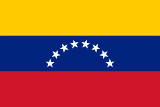 Venezuela
Answer
Yes, in politically-binding national elections (elections for public office or direct democracy initiatives)
Source
General Regulation of the Organic Law of Electoral Processes (2012)
Título IX, Capítulo I, Artículo 310: En la Mesa Electoral el voto es electrónico y se emitirá cuando la electora o elector presione en las boletas electorales electrónicas la opción correspondiente a las candidatas o candidatos así como el voto lista de su preferencia, de ser el caso, y presione en la pantalla de la máquina de votación el recuadro "VOTAR". El voto quedará depositado electrónicamente en las unidades de almacenamiento del sistema automatizado de votación.
Comment
Venezuela has implemented electronic voting for its elections (see Título IX, CapItulo I, Artículo 310 of the Organic Law of Electoral Processes).