Is e-voting currently used in any elections with EMB participation?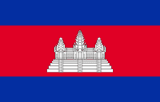 Cambodia
Answer
No, e-voting is not used currently
Source
Law on the Election of the Members of the NationalAssembly, art. 94 (2)
Every voter shall vote by placing a mark on the ballotpaper against only one political party of their choice, without making anychange or addition.
Source: http://www.constitutionnet.org/files/National%20Assembly%20of%20Cambodia%20Election%20Law.pdf