39. Are there limits on the amount a political party can spend?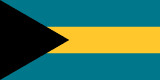 Bahamas
Answer
No
Source
Source: Parliamentary Elections Act (Reprint) 2017, 2017
"The Bahamas sets no limits on campaign spending and political parties are not required to disclose their finances."
Source: OAS (2017), Report to the Permanent Council, OAS Electoral Observation Mission, The Commonwealth of The Bahamas, General Elections, May 10, 2017, OAS
Comment
There are no regulations regarding political finance.