39. Are there limits on the amount a political party can spend?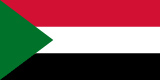 Sudan
Answer
Yes
Source
"(3) The Commission shall fix a ceiling for expenditure by the political parties and
individual candidates on their electoral campaign activities, taking into account:-
(a) the geographical size of the area to be contested by the political parties
and candidates and any geographic impediments on movement in that
area,
(b) the ease of access to communities in the area and available transport and
communication systems,
(c) the number and distribution of the population in the area, and
(d) any other reasonable circumstances that may affect the costs of the
electoral campaign,"
Art. 67 (3), Electoral Law 2008