39. Are there limits on the amount a political party can spend?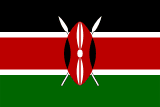 Kenya
Answer
Yes
Source
Election Campaign Financing Act 2013
Comment
Section 18 of the Election Campaign Financing Act 2013 states that the Independent Electoral and Boundaries Commission shall, at least twelve months before an election, by notice in the Gazette, prescribe the spending limits including the total amount that a candidate, political party or referendum committee may spend during an expenditure period, including the limit for media coverage.