39. Are there limits on the amount a political party can spend?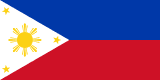 Philippines
Answer
Yes
Source
Republic Act No. 7166 (1991)
Comment
"SEC. 13. Authorized Expenses of Candidates and Political Parties. — The aggregate amount that a candidate or registered political party may spend for election campaign shall be as follows:
(b) For political parties — Five pesos (P5.00) for every voter currently registered in the constituency or constituencies where it has official candidates."
(Republic Act No. 7166,1991)