Back to overview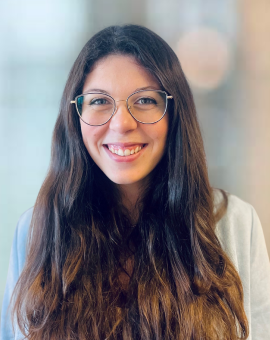 Carlotta Viaggio
Programme Assistant, Inter-Pares
Carlotta Viaggio
Programme Assistant, Inter-Pares
Carlotta is the Programme Assistant of the INTER PARES Project, Global Programmes.
Carlotta joined International IDEA in March 2023. INTER PARES, funded by the European Union, is International IDEA's flagship peer-to-peer partnerships between European Union Member State Parliaments and Partner Parliaments around the world, to foster representative and inclusive democracy. Carlotta focuses in her work on contributing to the success of the INTER PARES activities by ensuring effective organization of programming and events, supporting logistical and technical arrangements, and acting as stakeholder coordinator. She also supports in the initiation, development and implementation of cross-cutting initiatives, such as youth and civil society engagement, gender equality and human rights to foster parliamentary effectiveness.
Before joining International IDEA, Carlotta worked as Index and Membership Assistant at the Eastern Partnership Civil Society Forum and as a Project Coordinator at the Italian Network for Euro-Mediterranean Dialogue. During her studies she was an intern at the Ministry of the Interior in Rome, in the Department of Civil Liberties and Immigration.
Expertise
civil society; human rights; policy monitoring; project management
Education
MA, Global Studies, LUISS Guido Carli, Rome; BA, Political Science and International Relations, La Sapienza University of Rome; BA in Law and Politics (Spain Erasmus exchange)
Languages
English, French, Italian, Spanish
Location
Brussels, Belgium