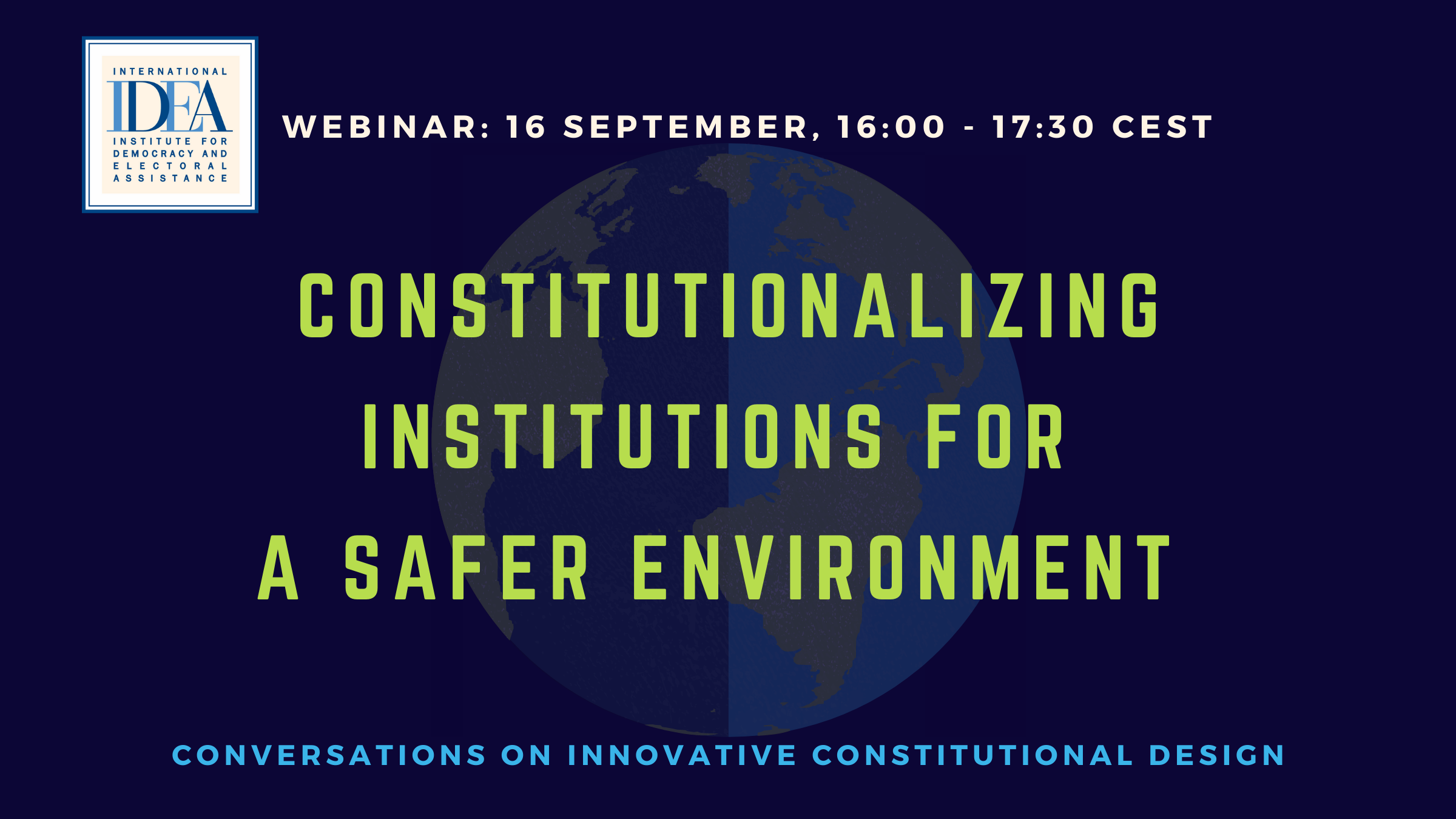 The Constitution-Building Programme of International IDEA invites you to a webinar on "Constitutionalizing Institutions for a Safer Environment", part of our series on Conversations on Innovative Constitutional Design Options.
As the climate crisis becomes an existential threat to life on earth, with acute transboundary and inter-generational ramifications, the Constitution-Building Programme will host an expert discussion on the role of constitutions—as the supreme law in any country—in ensuring effective environmental protection and sustainable governance.
Beyond substantive guarantees related to a right to a healthy environment, many countries around the world have established institutional mechanisms to monitor, investigate, and advance environmental standards. To interrogate the potential symbolic and added value of constitutions in the promotion of a safer environment, this webinar will particularly focus on constitutional design innovations that contribute to monitoring and enforcement of substantive environmental provisions, with country case studies highlighting lessons, possibilities, and challenges for those involved in constitutional design or reform processes.
Country experts will present the broad spectrum of institutional frameworks established to monitor and enforce environmental rights, such as constitutionalized environmental tribunals (as in Kenya), independent commissions on issues related to the environment and future generations (as in Hungary), and specialized public prosecutors mandated to enforce environmental law (as in Brazil).
Through discussion of the identified constitutionalized institutions, we will review the potential role of constitutions in helping individuals and institutions to safeguard the environment and fight climate change and explore the potential utility and challenges of establishing comparable constitutional institutions in other countries.
Please register here: https://bit.ly/ConstitutionsEnvironment
***
AGENDA
Welcome
Dr Kevin Casas-Zamora, Secretary-General, International IDEA
Opening Remarks: Constitutions and the Environment
Dr David R. Boyd, United Nations Special Rapporteur on Human Rights and the Environment
Presentations and Reflections: Innovative Constitutional Design
Prof. Patricia Kameri-Mbote, Director of the Law Division at United Nations Environment Programme (UNEP); Professor of Law at the Faculty of Law of the University of Nairobi; Founding Director of the International Environmental Law Research Centre (IELRC)
Ms Maria Antonia Tigre, Director of Latin America for the Global Network for the Study of Human Rights and the Environment
Prof. Marcel Szabó, Judge of the Constitutional Court of Hungary; former Ombudsman for Future Generations
Plenary Discussion
***
This webinar is open to the public. There will be English and Spanish translation available / Este webinario es abierto al público. Habrá disponibilidad de traducción simultánea en inglés y castellano.
***
The Constitution-Building Programme's webinar series on Conversations on Innovative Constitutional Design Options seeks to identify, discuss, and profile innovative constitutional approaches, focused on institutional design, with potential to contribute to the resolution of some of the biggest social, political, economic and cultural challenges facing societies around the world. While innovations from all parts of the world are showcased, the webinar series aims to particularly highlight innovations from countries and regions that have not attracted sufficient scholarly and practitioner attention to contribute to a more enriched cycle of 'migration' of constitutional ideas. Learn more at Constitution Net.