This publication is only available in electronic format
The National Dialogue on Political Parties' Internal Democracy was jointly organized by the International Institute for Democracy and Electoral Assistance (International IDEA) and the Centre for Multiparty Democracy (CMD-Kenya).
The central theme of the dialogue is gender in political parties' intra-party democratic processes, internal systems and practices. The Dialogue aims to be a platform for collective reflection and consensus-building by key political stakeholders on parties' internal procedures for nominating candidates in Kenya. The idea is to foster compliance with the constitutional provision that not more than two-thirds of the members of any elected or appointed body shall be of the same gender. The aim of the meeting was to enable its participants to:
Analyse intra-party democracy processes and systems to identify the gender-based impediments to accessing elected positions of power and decision-making at all levels in Kenya;
Assess the state of regulatory frameworks to increase the nomination of women candidates and devise measures/mechanisms for monitoring political parties' nomination processes; and
Define the key elements that will be required in political parties' strategies to achieve gender equality in candidate nomination in Kenya.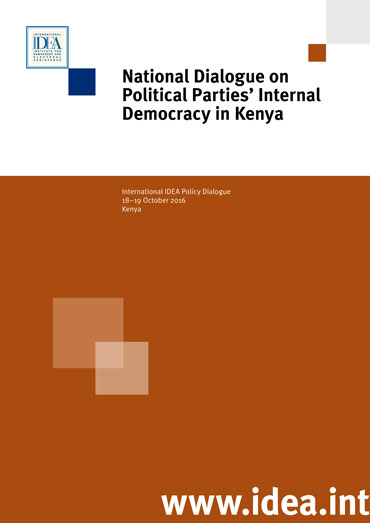 Contents
Acronyms
Introduction
Session 1: Opening session
Session 2: Comparative analysis of political parties through a gender lens
Session 3: Contextual analysis and overview of the implementation of the constitutional principle on gender parity in elections and politics
Addendum to Session 3: Assessment of the electoral framework
Session 4: Political parties' internal processes and practices
Day 2: Recap
Recommendations