This publication is only available in electronic format
Post-conflict democratization has always been regarded as an ordeal, and democracy-building in the South Caucasus countries is no exception.
The countries of the region—Armenia, Azerbaijan and Georgia—are telling examples of the fact that elections are insufficient for the establishment of democracy.
This Discussion Paper analyses the European Union's actions within the region of its European Neighbourhood Policy (ENP) and Eastern Partnership (EaP) initiatives in Armenia, Azerbaijan and Georgia. It argues that, in the case of the South Caucasus countries, the debate over sequencing or simultaneously undertaking democracy and state-building is largely irrelevant, since these countries already had established institutions and components of democracy when the EU first entered the region.
Nevertheless, the main problem is that these domestic institutions have stagnated in their illiberal practices, while components of democracy such as elections, political parties or the media have hardly fulfilled their democratic functions.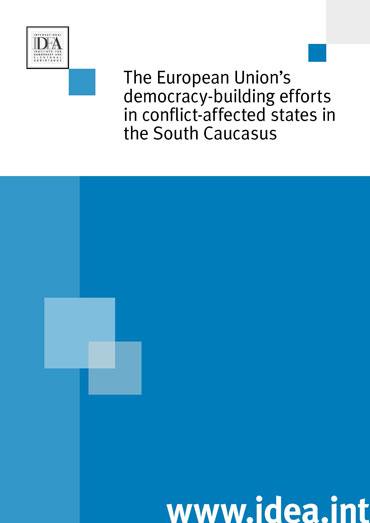 Contents
Abbreviations
1. Introduction
2. Identifying state fragility
3. The EU's take on state fragility and democracy-building
4. The 'fragility' of the South Caucasus
5. EU democracy-building in the South Caucasus and its limitations
Conclusions and recommendations
References and further reading
About the author
About International IDEA
About the Inter-Regional Dialogue on Democracy