This publication is only available in electronic format
Co-Publisher(s):
Innovation in Politics Institute
When technology meets political participation.
More and more political professionals in Europe are trying to find ways to enhance the representativeness and effectiveness of democracy, so forms of participatory and deliberative democracy are on the rise. New tools have emerged to facilitate engagement, digitizing previously analogue processes and widening accessibility and scale.
Initially, awareness of such technologies and methods was limited to a group of 'participation enthusiasts', but in recent years such applications have become common in many countries and cities. An increasing number of people working in politics are looking for, and implementing such solutions. As a result, a market for democracy technologies is taking shape in Europe.
Based on a series of in-depth interviews with 53 politicians, experts and representatives of companies across Europe, this report presents conclusions on the state of democracy technologies in Europe.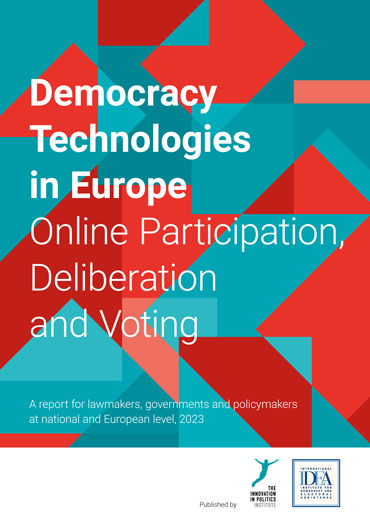 Contents
Forewords
Purpose of the Report
Executive Summary
Introduction
1. Players in the Democracy Technologies Market
2. Where Democracy Technologies are Applied
3. The Market for Democracy Technologies in Europe
4. Practitioners' Concerns
5. Democracy Technologies in Times of War and Authoritarian Regimes
6. Recommendations for Lawmakers and Policy Makers at the National and International Level
Sources
References
Annex