This publication is only available in electronic format
Beginning in late 2010, from Tunisia, Egypt and Libya to Syria, Yemen, Bahrain and Jordan, countries of the Middle East and North Africa (MENA) region have experienced individualized versions of what has come to be known as 'The Arab Spring'.
In this context, moreover, these countries are now confronting their own versions of the multi-faceted, multi-layered democratic transition agenda.
This Discussion Paper, prepared ahead of the International IDEA Democracy Forum held in Madrid on 28–29 November 2011, explores a critical feature of the transition agenda for MENA region countries, namely promoting the rights of minorities as well as their representation and participation in the political sphere. It covers a range of critical issues pertaining to minority rights, participation and representation through the prism of four country case studies: Indonesia, India, Canada and South Africa.
Each of the case study countries has been selected due to their differing experiences and approaches in this domain, the comparative insights and lessons these experiences reveal and their potential relevance and application to countries of the MENA region.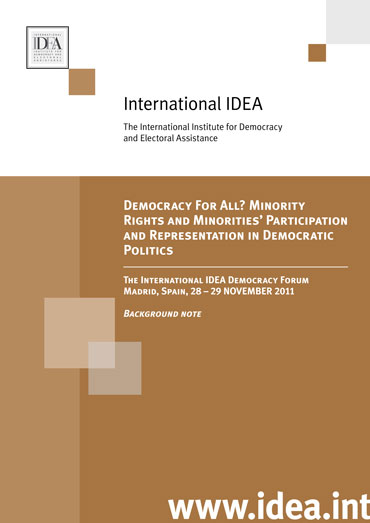 Contents
Acronyms
Introduction
1. Indonesia
2. India
3. Canada
4. South Africa
Conclusions and recommendations
Annex 1: List of interviewees