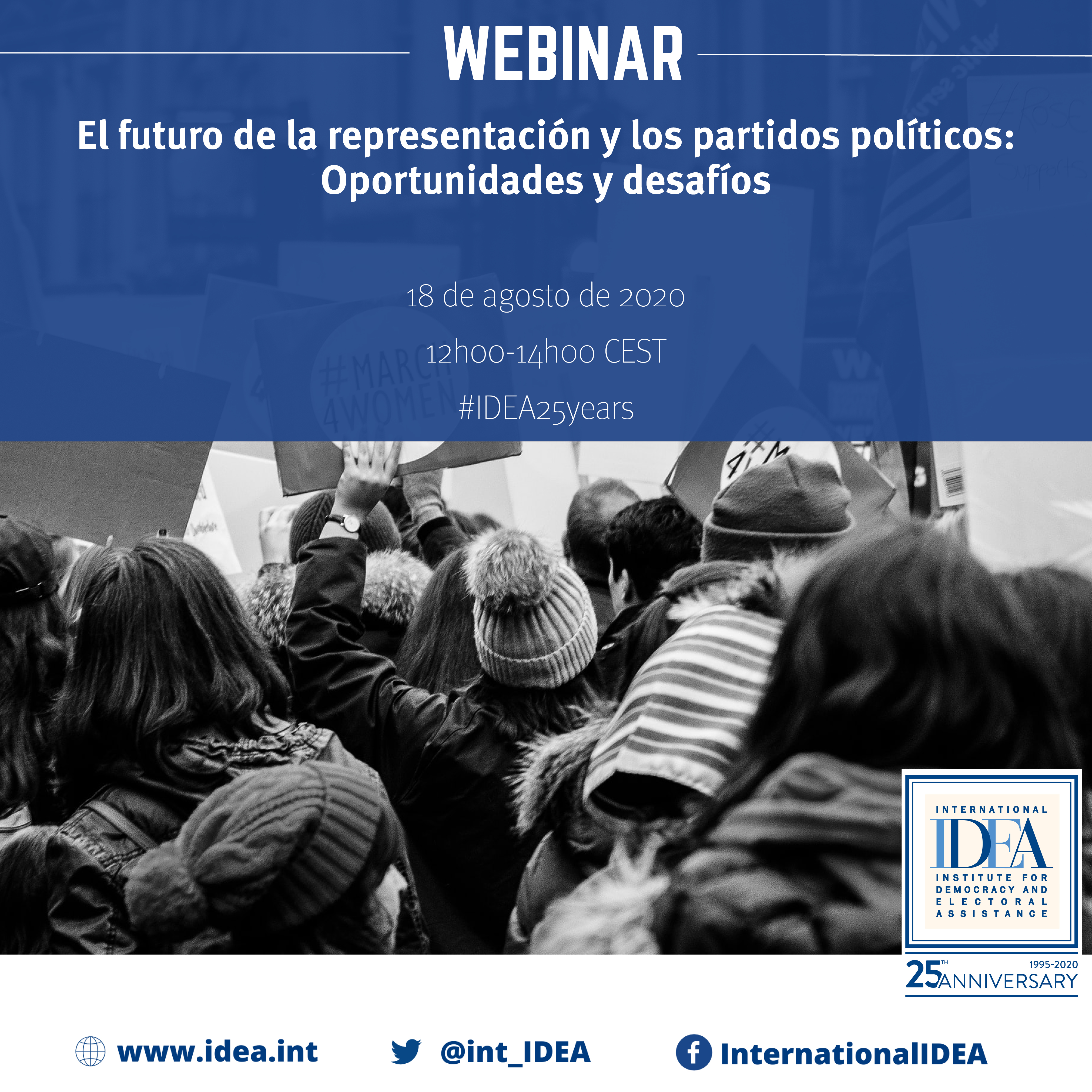 La indispensable y la indiscutible significancia de la representación constituye un fundamento base para una democracia sostenible. Por lo tanto, el futuro de la representación es imperativo para el futuro de la democracia, principalmente debido a que la representación es el principal conductor para los procesos e instituciones políticas con el fin de apoyar, avanzar y alcanzar los objetivos de la democracia.
Las formas tradicionales de representación política están bajo una presión creciente en todas las regiones, la mayoría de los ciudadanos tiene poca confianza en los partidos políticos. Diversos barómetros sociales de todo el mundo indican que los partidos políticos se encuentran entre las instituciones menos confiables de la sociedad. Sin embargo, esto también refleja una forma cada vez más crítica de pensar entre los ciudadanos y, por lo tanto, representa un incentivo positivo para las reformas y la transformación de los partidos políticos y la política en general. En este contexto, el hecho de que los partidos políticos no representen adecuadamente a los diferentes grupos de la sociedad, la falta de inclusión, la incapacidad de dar respuesta a las demandas de los ciudadanos y la evidencia de corrupción persistente, erosionan la confianza en los partidos político. (IDEA Internacional, 2017).
El seminario web explorará las respuestas de los partidos políticos a los emergentes desafíos en materia de representación;
¿Cuáles son los desafíos en el sistema de partidos políticos y qué cambio se requiere para reinventar el sistema de partidos?
¿Qué está cambiando sobre la representación y qué está impulsando el cambio?
¿Cuál debería ser la perspectiva de los partidos políticos como instituciones representativas del futuro?
¿Cómo pueden los partidos políticos garantizar que la democracia entregue resultados a la ciudadanía, más allá de la retórica de campaña política?
Los panelistas del seminario web serán políticos de África, Asia, América Latina y Europa y el panel será moderado por Laura Thornton, Directora del Programa Global, IDEA Internacional.
The webinar will be simultaneously interpreted in English and Spanish. More information on the webinar in English can be found here.
Únase a la conversación en las redes sociales con #futureofrepresentation #IDEA25years.